Winter weddings are magical. As the Christmas season is fondly known as the best time of the year for families and friends to get together and enjoy some quality time, a wedding in winter is just the perfect occasion to do so. The cold crisp frosty day, the smell of cinnamon, twinkling fairy lights, and maybe some snow make it a truly magical wonderland wedding.
If you have been invited to a winter wedding, well lucky you! You must be wondering what to wear to a winter wedding and do know that you are not the only one.  Dressing for a wedding is a bit daunting without the need to plan for cold temperatures and icy conditions and it gets a little more challenging if you are on the curvy side.  As such, the thought of attending a winter wedding can be stressful for some women. Well, do not despair. Do read on for some tips on how to choose the right plus-size guest dresses for a winter wedding.
What Is Special About Plus Size Winter Wedding Guest Dresses?
When it comes to winter wedding dress codes, they are typically more formal in nature.  Many couples opt for a formal black tie as the celebrations are usually held indoors like in banquet halls or country clubs. With the temperatures dropping, you will have more reasons to go for dresses in plush fabrics, rich color palettes, and sparkly jewelry. As a matter of fact, you can be even more extra when it comes to winter wedding outfits.
When it comes to color options, there is a multitude of shades to choose from. Classic deeper hues like burgundy, navy, and black are popular choices and can be worn again and again. Emerald green is trending right now and this shade makes a nice statement. Apart from jewel tones, you may also want to go bold with metallics because after all, there is no better time than the holiday season to wear a glittering gold or silver maxi dress that will perfectly complement the joyful mood.
How to Choose the Perfect Winter Wedding Outfit 
Dressing for the weather is one of the most challenging parts of trying to decide what to wear as a wedding guest. There are several factors to consider such as the type of fabric, outerwear, and footwear that are appropriate for chilly temperatures. An outfit with thicker fabric is a good choice to add texture and warmth.  You may want to leave out sleeveless or slip dresses unless you plan to layer with a jacket, stole, or sweater over it. 
Another popular fabric choice is velvet. A velvet dress in rich seasonal color will give help the wedding guest make a statement while also offering warmth. 
What Outerwear To Wear To A Winter Wedding 
As mentioned above, if you plan to wear a short sleeve dress or thinner fabric wedding guest dress, you would need to wear something over it to keep warm. Searching for winter wedding guest outerwear can be challenging. You would want something that can keep you warm and is practical without taking the attention away from your outfit. The outerwear choices depend on the venue and dress code.  As winter weddings are usually on the formal side, a long wool coat or a woolen stole is a good choice. For semi-formal weddings, a light cover-up or a shawl may be enough to do the trick. 
Wedding Guest Shoes For Winter Weddings
Besides having the appropriate dress, shoes play also play an important part in the winter wedding guest style. Now is the time to bring out classic footwear such as closed-toe and pointed heels as they are elegant and can keep your feet warm. 
Where To Buy Plus Size Winter Wedding Guest Dresses
Everyone loves weddings and while it is always fun to dress up and celebrate the reunion of the wedded couple, it is not always easy to find plus-size wedding guest dresses. It is natural that you want to look your best but looking for the perfect plus-size winter wedding guest dress can be a challenge. Well, it doesn't have to be that way at Ever-Pretty, a leading online retail store that has a phenomenal selection of plus-size dresses that caters up to size 26. Their goal is to create beautiful occasionwear for women of all shapes and sizes. Finding the best plus-size wedding guest dresses is easy and exciting at Ever-Pretty. Whether you are aiming for an on-trend or timeless look, this online dress retailer has the perfect ensemble for this celebratory winter occasion.
Formal Plus Size Winter Wedding Guest Dresses
Formal attire usually means ankle or floor-length dresses. You would also want a dress in a fabric that shows sophistication and look polished. A piece like this elegant sequin maxi dress with a deep V-neckline is perfect to wear with high heels. Add a pair of long sparkling earrings to complete the look. The long sleeve design of this rich hue dress will keep you warm throughout the ceremony.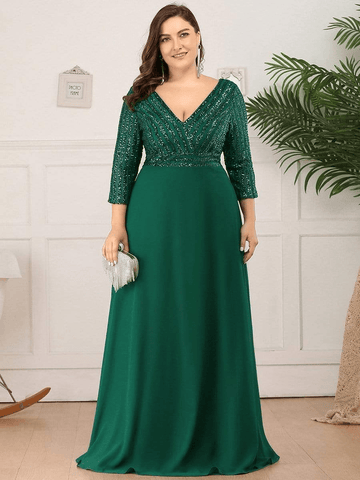 Casual Plus Size Winter Guest Wedding Dresses
If the dress code is casual, you may want to choose a dress that looks smart and has a relaxed feel like this V-neck lace A-line dress with sleeves. This simple no-fuss dress with a waist belt is beautiful and has an easy-going feel.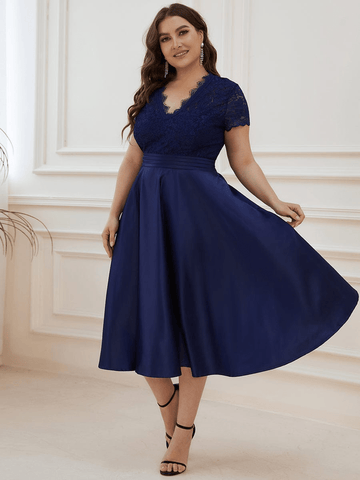 Simple Plus Size Winter Wedding Guest Dresses
If you prefer a minimalist style, then a simple plus size guest wedding dress will make an excellent choice. This long sleeve sequin creation with a plunging V-neckline and wrap bodice will become your instant favorite. It also has a thigh high peekaboo slit.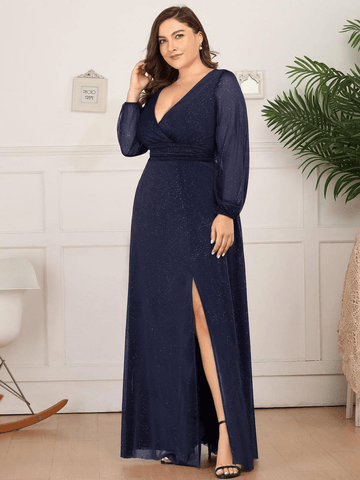 Semi Formal Plus Size Winter Wedding Guest Dresses
For the semi-formal dress code, the hemlines can be at the knee or below. This fun high-low plus size wedding guest dress can take a look from dressy to casual to semi-formal. It features a cinched waist with a vintage floral lace bodice and short sleeves while fluttering layers lined the bottom of the dress.