After two years of postponed and downsized weddings, the wedding industry is seeing a surge of couples holding their weddings in 2022 and 2023. We are sure many have multiple wedding invites in their social calendar and of course, this year is busier than the previous two years. With so many upcoming occasions, one thing that is on everyone's mind is - What do we wear to all of them? After spending so much time in comfortable clothing, the idea of dressing up in dresses and heels may seem a little daunting.
Weddings come in all shapes and size so trying to figure out which dress will work for the occasion is easier said than done. If you are a woman over the age of 60, you would think that your options are rather limited and it is a bit difficult to shop for the perfect dress.  On the contrary, there are many wedding guest dresses for women over 60 that will work for all types of body shapes and sizes. Choose an elegant or cheerful design dress that not only makes you feel great but also lets you celebrate all day and night should there be a dance party later.
Before you choose your wedding attire, one of the most important factors to take into consideration is the wedding dress code. You will need a different dress for an outdoor wedding in the garden than you would at a hotel ballroom. In addition to that, the location and time of the event can offer additional information about what fashion is suitable.  While you may choose a casual sundress with a denim jacket for a barn wedding in the afternoon, an evening soiree at a hotel will require a more formal look like a long maxi dress.
Here are some tips on choosing wedding guest dresses according to the seasons.
Spring And Summer Wedding Guest Dresses For Women Over 60
The official start of the wedding season is Spring and it is the best time to start planning out the outfits. The perfect spring/summer wedding guest dresses reflect the season.  Pastel colors, floral prints, and weather-ready styles should be taken into consideration when choosing your look. Colors such as pale blue, mauve, gray, lavender, and pink are ideal for the spring wedding season.  Lighter fabrics and colors are apt for daytime or afternoon weddings while heavier and darker formal fabrics are good for spring/summer weddings that start in the evening.
Fall Wedding Guest Dresses For Women Over 60
Fall wedding guest outfits are often associated with jewel tones and textured fabric and prints. Fuschia, emerald, burgundy, and plum are some suitable colors. Although maxi dresses are suitable for the warmer weather, they can also be worn well into fall. Knee-length or midi cocktail dresses are also great options. Make sure you know what type of wedding you are attending as a garden or beach wedding requires a different style of dress than a black-tie formal wedding.
Winter Wedding Guest Dresses For Women Over 60
As the temperatures dip, it is important to look for an outfit that is both weather appropriate, reflects the season, and is stylish. For winter, guest outfits often include dark hues, rich fabrics, and long sleeves. An upscale evening winter wedding will require a formal outfit, while a casual look is acceptable for a less formal daytime event. Color and fabric are two important components when it comes to picking out winter wedding guest outfits. Deep jewel tones and rich fabrics such as satin and velvet are great choices for weddings in the cooler months. As for the length, the longer it is, the better it can help you to stay warm. That said, don't count out sleeveless outfits. If you are indoors or mingling with other guests, you may be more comfortable in a short sleeve or sleeveless silhouette. 
In order to make your shopping experience easier, we have gathered a list of the different types of wedding guest dresses for 60 or older women.
Fit-and-flare Wedding Guest Dresses For Women Over 60 
Fit-and-flare dresses whether knee-length or longer are chic and flattering. It has a defined waistline and fits closer to the body but is not too tight which makes it uncomfortable. This forgiving silhouette fits every body type. If you are an apple shape, it works well by taking the attention away from the midsection.  For pear shape, this dress cleverly camouflages the wider hips and thighs.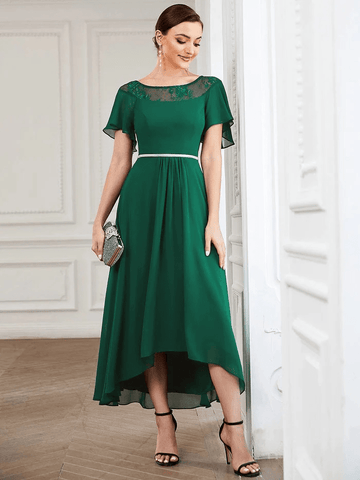 Wrap Dresses For Wedding Guests Over 60
Wrap dresses are classic, flattering, and incredibly versatile. Best of all, they are perfect for older women. This silhouette does not show much skin but it does not hide the shape completely. It hugs the body just the right amount and is more figure flattering than the shapeless dresses that many older women wear as they get older. Another great thing about wrap dresses is that they can be adjusted according to your body shape.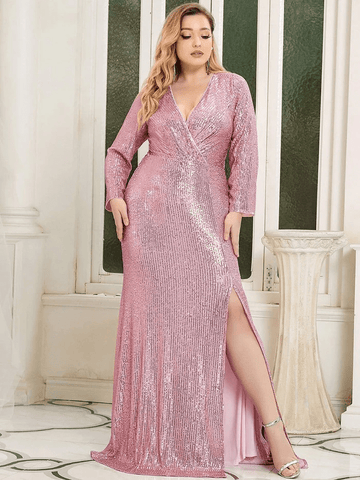 Waist Cinching Dresses For Wedding Guests Over 60
A dress with a waist-cinching feature is best for women over 60 because women tend to gain weight on the upper body and lose the natural waist as they get older. A waist-cinching dress gives the eye the illusion that there is a waist.
Dresses With 3/4 Sleeves For Wedding Guests Over 60
Flabby arms are one of the main concerns for many women over 60 and this is why they want to hide them. Choosing a 3/4 sleeve dress will help to give a balance of covering the arms and also flattering the body shape.  3/4 sleeve length ends at the wrist which draws attention to the smallest part of the arms. It is a feminine way to get dressed without being too revealing.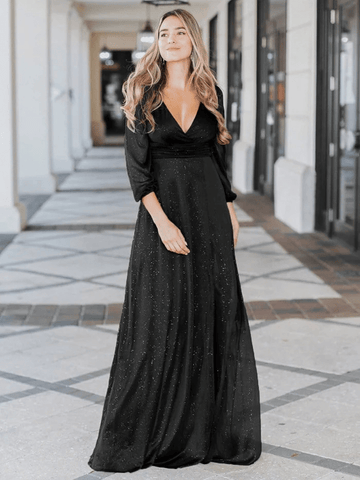 What Is The Best Dress Length
Dress lengths can be a bit tricky for women regardless of age. When you are over 60, you would want to ensure that you are dressed appropriately. If you are petite, you need to be extra careful when it comes to selecting longer-length dresses.
Knee Length – Just right at the knee, this dress style is most flattering for older women. Choose a dress length that is just above the knee to create the illusion of length on your frame while being age-appropriate.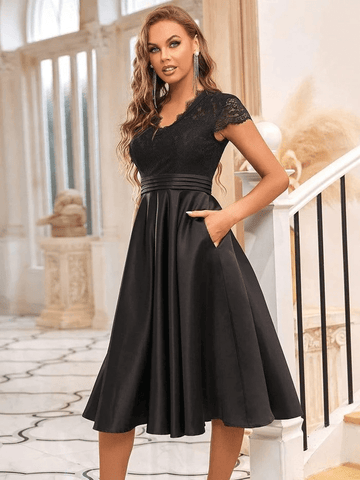 Midi Length – This is the right length if you prefer not to show your knee.  It can be just below the knee or above your ankle. Midi length is the preferred length for many women who want dresses to attend formal or semi-formal events.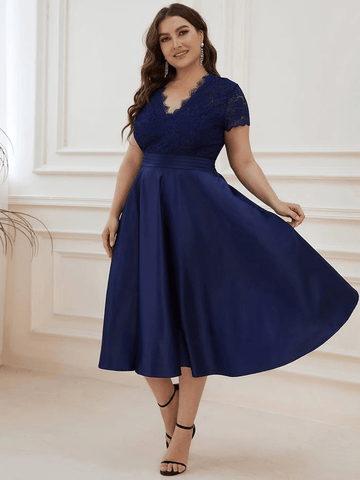 Maxi Length – Maxi dresses can be flattering if you are over 60 because it makes sure that everything is safely covered. It is elegant and suitable for fancier occasions.