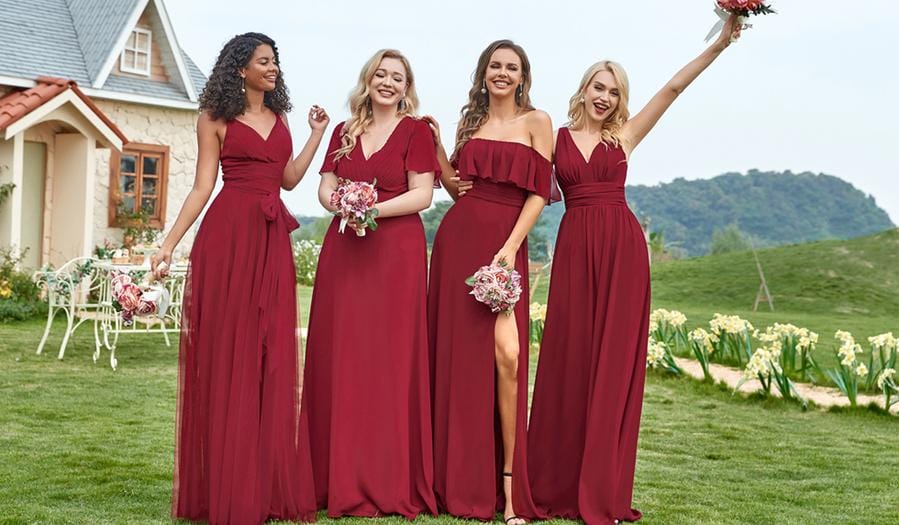 The color with the most star power this season is, of course, burgundy red: a more sophisticated and luscious color than simple red. Symbolizing abundance, burgundy suits most figures but especially curvy ladies with an attitude.
The pandemic has hit us hard, but that is no reason to skip celebrations and avoid those lovely occasions which make us smile. Be ready to add this to your number of motives to accept being a bridesmaid in 2023! Dressing up gives us something to look forward to, plan our outfit, and imagine how you would dazzle everyone on the dance floor.
Tips for 2023 Plus Size Bridesmaids
Yet, some of us might find it challenging to dress up being plus size. But that shouldn't be the case, following some essential tips.
✔ First, you should know your body, with its every curve and best features; it will take you a long way. Nobody actually has a perfect body, so dressing up to emphasize your best parts or those body features you are proud of will always work to your advantage. You should know your measurements, but don't stick to size per se, as size is just a number, and you will wear different sizes depending on the brand, anyway.
✔ Second, and this goes hand in hand with the later, don't be afraid to show yourself, so don't ever cover yourself up and hide. Wear your body with pride, as beauty stands mainly within your attitude. And you are truly beautiful. Put on that crop top, go for shorter dresses, and show some arms.
✔ Also, invest in quality fabrics. It is better to have a hand of collectible-quality items and not stock on cheap clothes. Cashmere and HQ wool will always look better than polyester. The same goes for fine tailoring, good stitches and attention to details, making the difference.
✔ Fourth and last, don't be shy. Go for colors, go for prints, express yourself, play with various prints, shock a bit, and don't be afraid to show your true colors. Monochromes can work interestingly if you play with fabrics and textures, and combining different fabrics and different colors can make you look like always wearing a designer's dress. Courage is everything in this department.
The Most Stunning Curvy Burgundy Bridesmaid Dresses in Every Style
To exemplify accordingly, we handpicked a wide selection of burgundy bridesmaid dresses for plus-size ladies so as to emphasize the various options out there to wear burgundy with style and grace.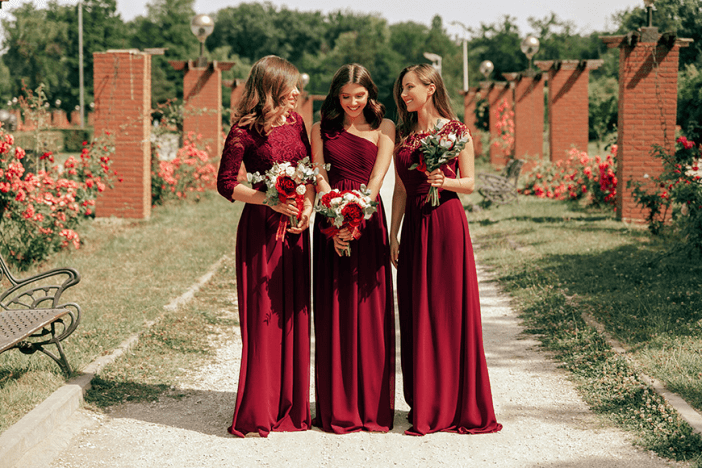 Plus Size Burgundy Bridesmaid Dresses Under $100
Our number one list includes amazing plus-size burgundy bridesmaid dresses under $100. Picking such a timeless piece and saving money for your next city break? Yes, you can; it's all possible.
Plus Size Burgundy Bridesmaid Dresses with Sleeves
Sailing further, let's look at plus-size burgundy bridesmaid dresses with sleeves, more suitable for the colder season.
Long Plus Size Burgundy Bridesmaid Dresses
Since 2022 will be the year for maxi-length formal dresses, a list of long plus-size burgundy bridesmaid dresses is mandatory.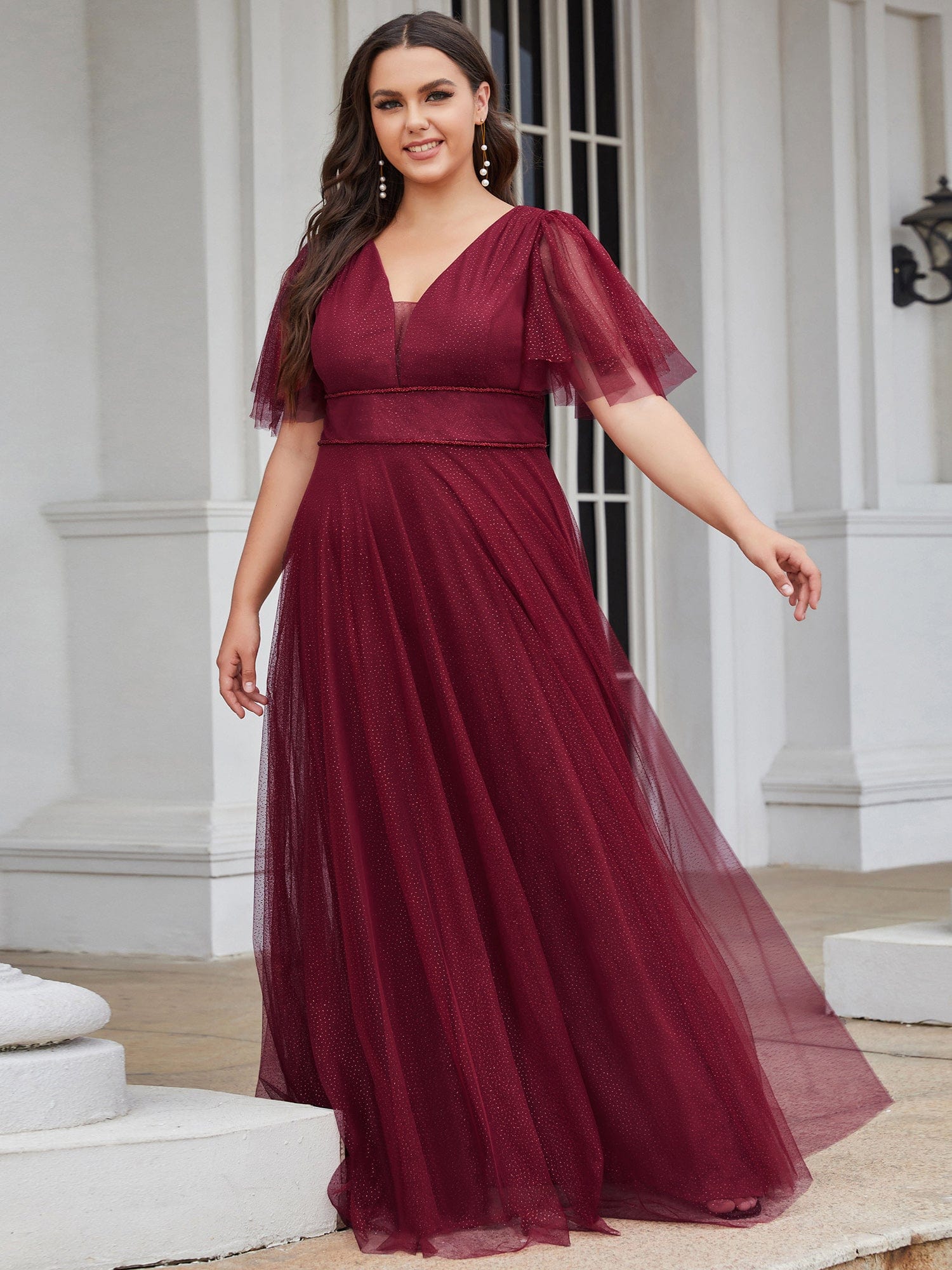 Ruffle sleeves in shimmering tulle, oh my! What could be more festive? The cleavage is quite ingenious, with double layering, exposing the décolletage with certain retention. The burgundy bridesmaid dress is nicely balanced between the lower "nice" sides, leaving the "naughty" role for the upper part.
Plus Size Burgundy Velvet Bridesmaid Dresses
If the color burgundy is the rock star of colors, velvet is the power player in terms of fabric. So check out these two plus-size burgundy velvet bridesmaid dresses for a lasting impression.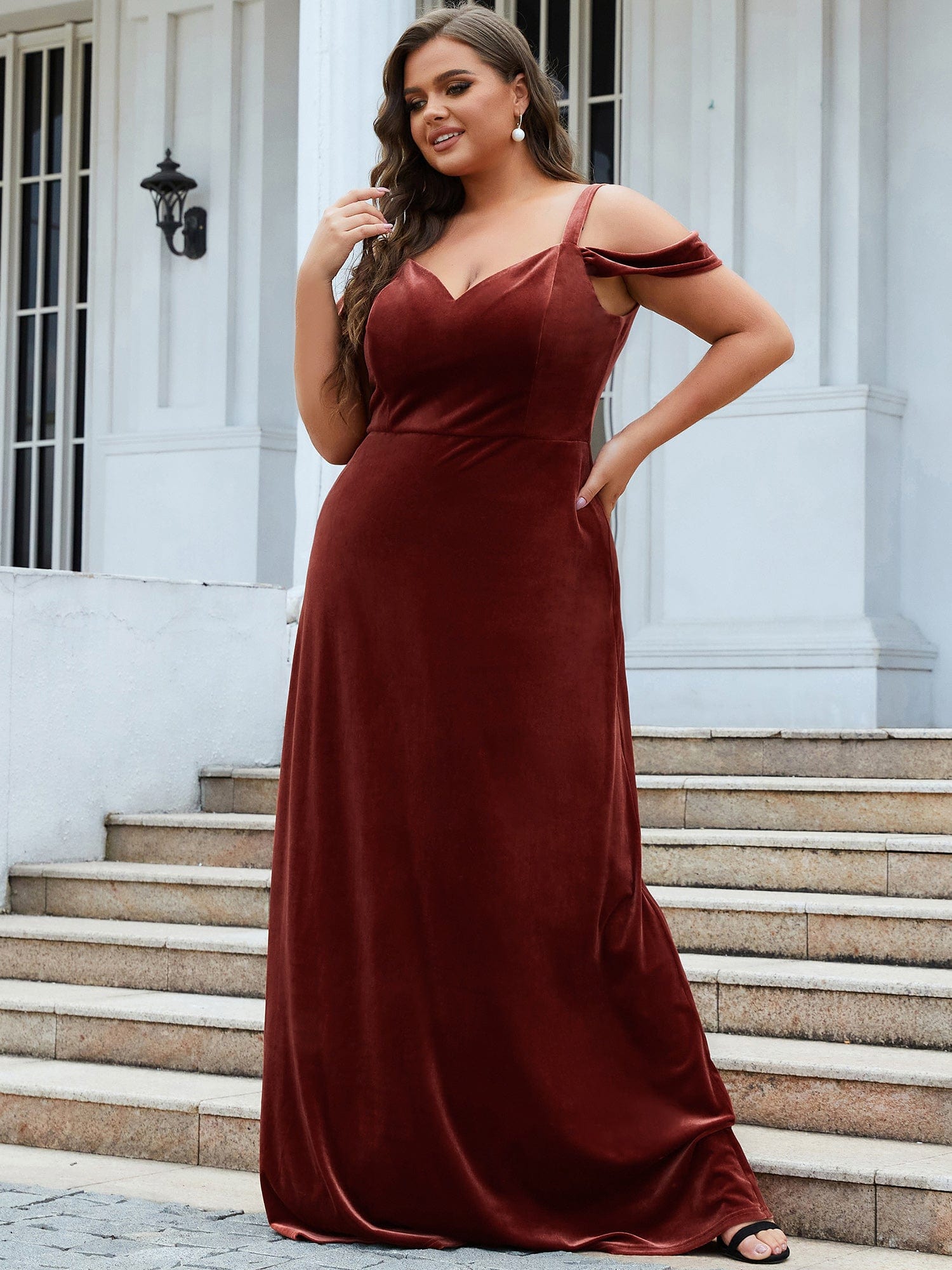 The cold-shoulder burgundy bridesmaid dress with spaghetti straps plays with cuts and volumes beautifully. At the same time, the heart-shaped neckline gives a certain Audrey Hepburn look-alike for the exquisite customer.
Tips on How to Choose Plus Size Burgundy Bridesmaid Dresses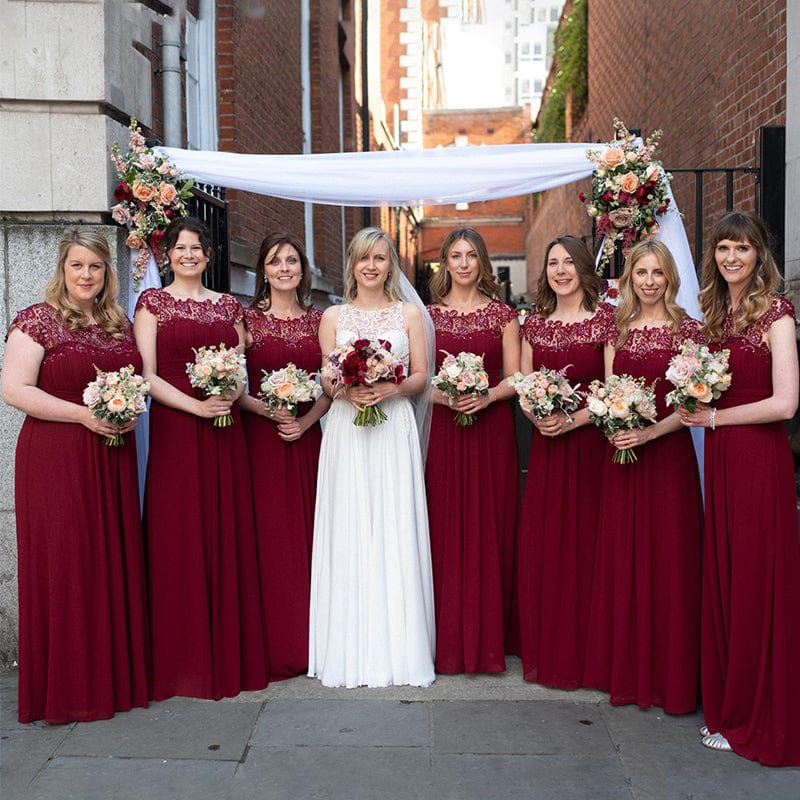 Depending on the season and theme of the party, burgundy bridesmaid dresses can go from playful (in tulle, with ruffles) to intensely elegant (velvet dresses) and romantic (in chiffon, with lantern sleeves) to decadent – with a side split. Choosing the fabric and print depends, again, on whether it is a wedding by day or by night, as you can choose to go matte or shimmering, with or without sequins, overlaying fabrics and playing with contrasts. Full-length is the way to go for the 2023 bridesmaids season, adding a touch of elegance to the whole picture.
You should choose to feel comfortable; a summer wedding will go better for a tulle or a chiffon dress; a garden party requires something less pretentious; a ballroom wedding will most certainly ask for a more heavy or glamorous fabric, so dare to introduce sequin to the picture.
Going for dresses that will not negatively surprise you is smarter; pick a dress your size, make sure it allows you to move and go for one that does not limit your positions.
Top Trends for Curvy Burgundy Bridesmaid Dresses in 2023
As we navigated our way through styles and fabrics for burgundy bridesmaids, let's see our personal picks in terms of thematic dresses for 2023, our very adventurous suggestions, and certainly the ones with the most personality.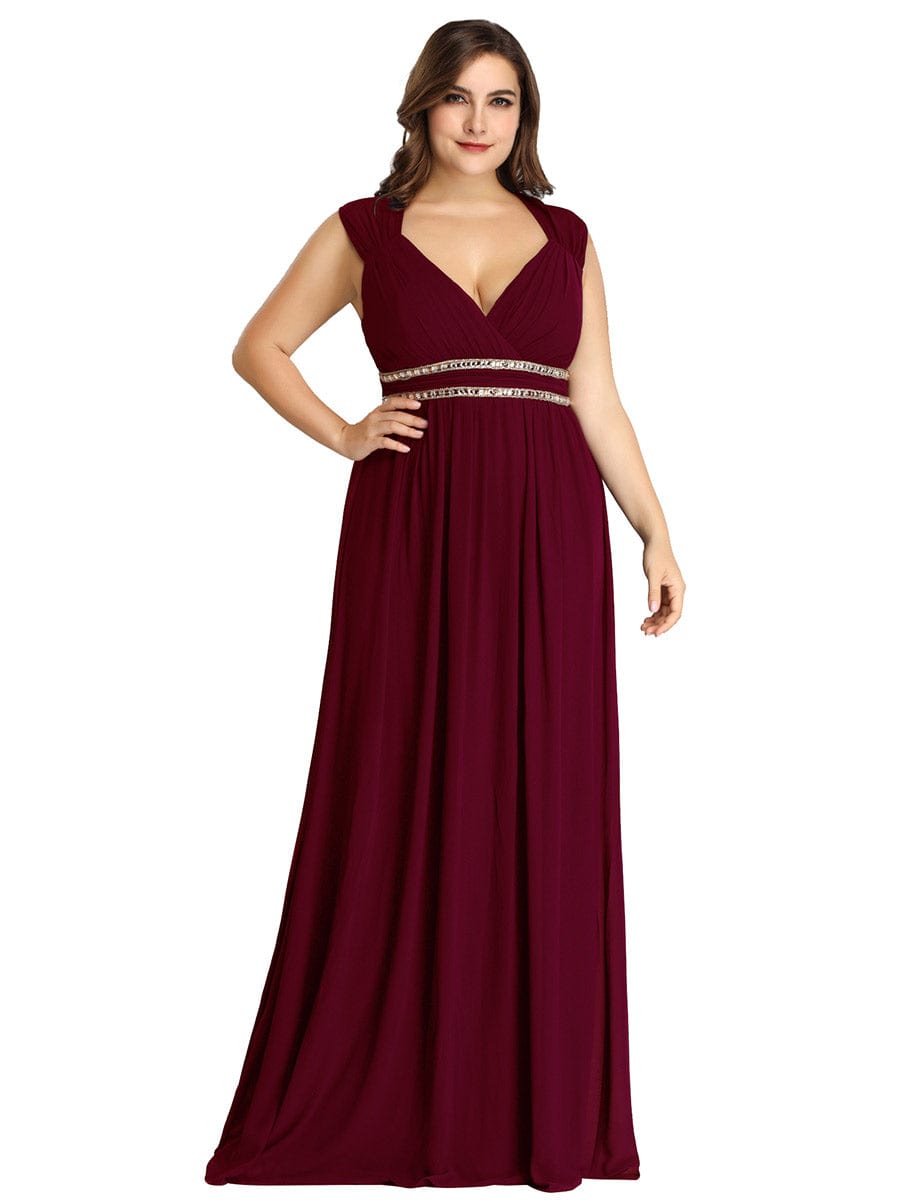 Going Classic
Going classic with the Greek-style bridesmaid dress, introducing lovely cap sleeves with creases, and the shimmering glamorous details highlighting the waist. The crop back part of the dress beautifully embraces the attractive figure, showcasing the beautiful back arch and giving the dress a certain comfortable feelings.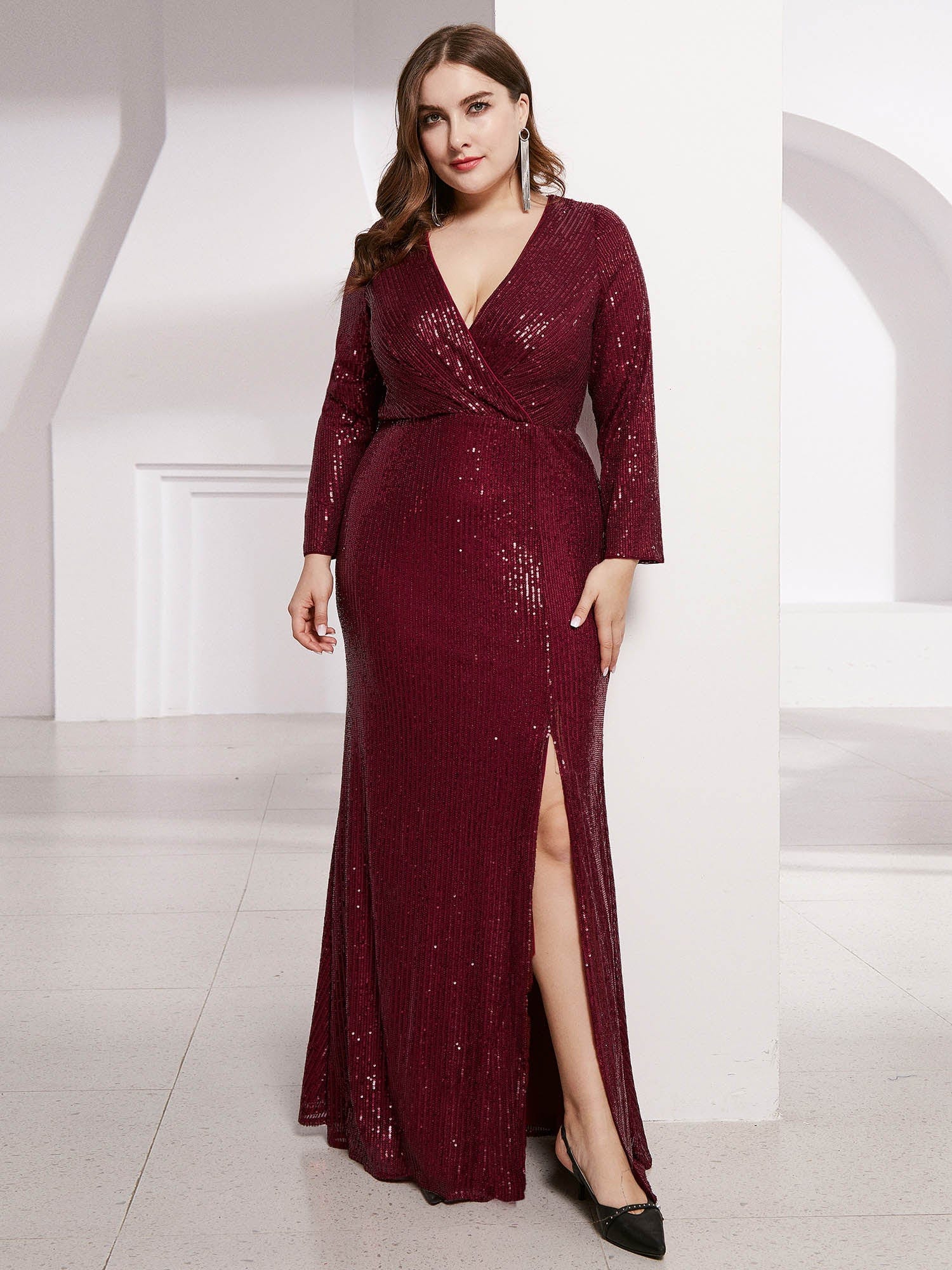 Shiny Sequin
Burgundy and sequin – this must be a burgundy bridemaid dress for the bold ladies out there. Full sleeves and a side split to give it a Bond girl look, as this burgundy dress doesn't need any introduction or other jewelry to make it shine.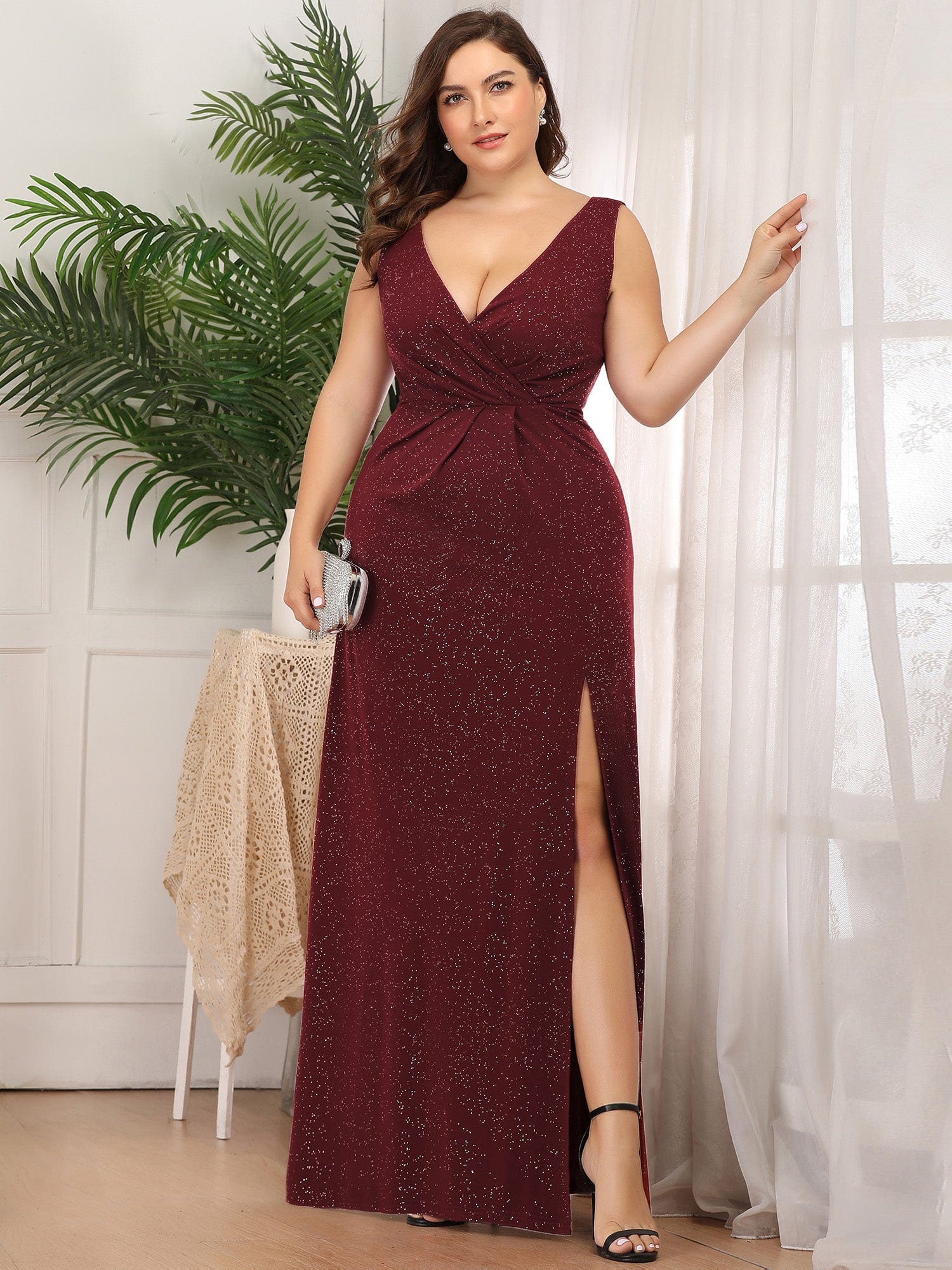 Deep V Neck
Deep v neck, shimmering fabric reflecting the light, lovely creases in the waist, and a high side split to compliment the burgundy dress and its owner, this bridesmaid dress in burgundy will become an extension of your body and your second skin combining dare and elegance.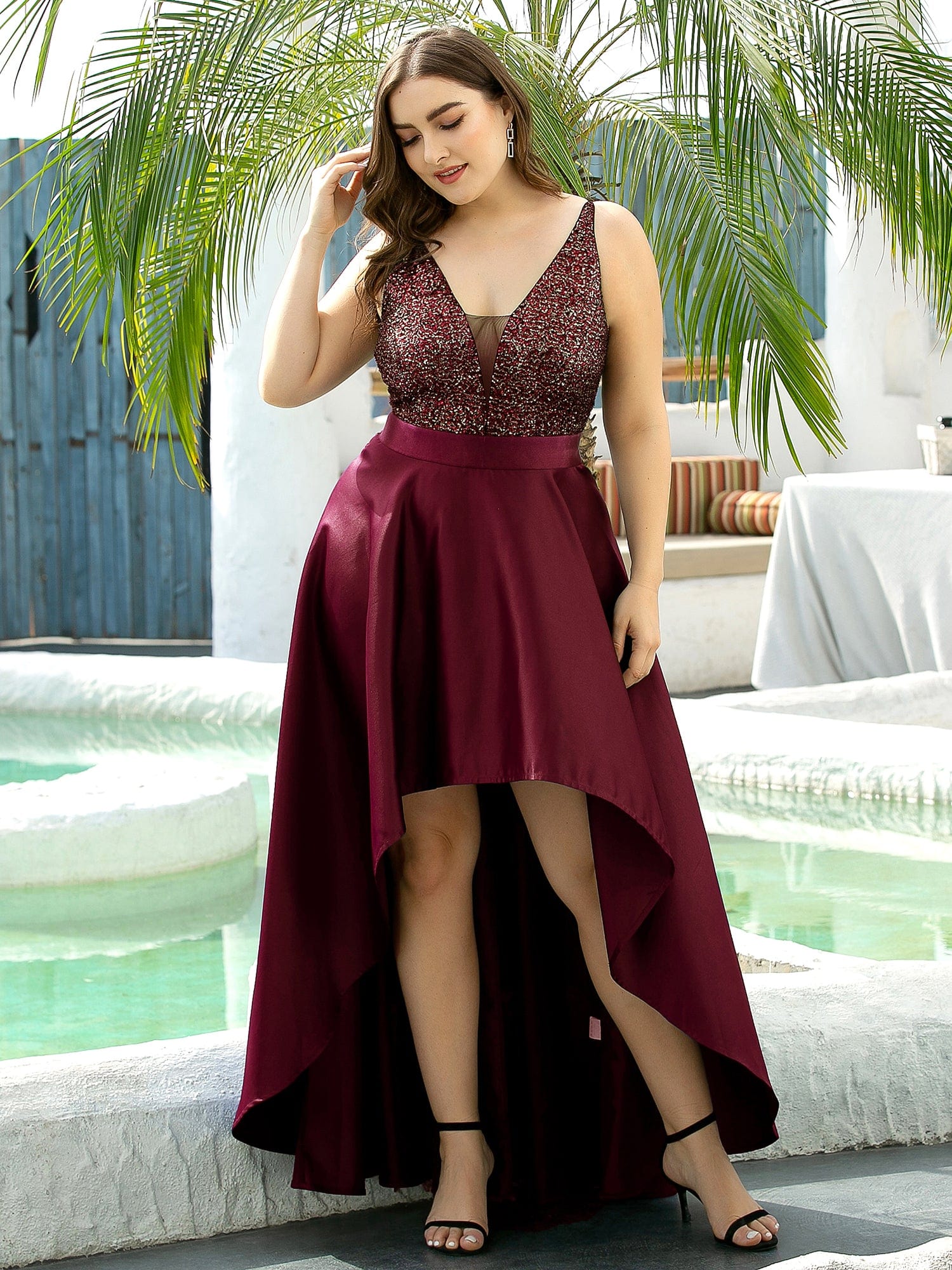 High Low Style
Asymmetry has been a trend for more than 5 years now, so credit where credit is due. This burgundy high low dress is the epitome of contrasts, playing with lengths and fabrics, from glamorous to matte, and introducing a nice wavy touch to the skirt. The over-layer décolletage is a nice bold move, and the full length in the back part, combined with a deep cut, cannot prepare watchers for what will come when the model turns her beautiful face.
So, Where to Buy Plus-Size Burgundy Bridesmaid Dresses?
If you are looking for a decent balance between price and quality, the solution with the best quality per value is always going to be Ever-Pretty.com, with its wide selection of dresses for all tastes, but especially with picks for curvy ladies not afraid to wear their bodies as they deserve.