No one can deny that one of the hardest tasks when planning a wedding is choosing your mother of he bride's dress. You've got to make sure it's not only beautiful but also appropriate, while also coordinating with all the other details of your special day.
The good news is that you don't have to do it alone; we're here to help you find the perfect mother-of-the-bride dress with this quality 10 mother-of-the-bride dresses that will make your shopping easier and more enjoyable! 
Things To Consider When Choosing Your Mother Of The Bride Dress
When it comes to choosing the perfect mother of the bride dress, you want to take a conservative approach. You are the mother, so you want to be elegant and graceful. 
A bright and colorful dress will make a perfect choice for your daughter's wedding, just ensure it looks and feels comfortable and natural to you. Some of the more popular options include bright colors like coral pink or blue.  
Besides, find out what colour the mother of the groom will be wearing so that your dress does not clash with their outfit. If you are in search of a long gown, make sure to pick one that is made of shiny fabrics or lace to give it a sophisticated and luxurious look.
Our 10 Mother Of The Bride Dress Picks
Flattering and fashionable, let us check out the top 10 dresses for the mother of the bride that you will love wearing it.
1. Beautiful Fishtail Mother Dress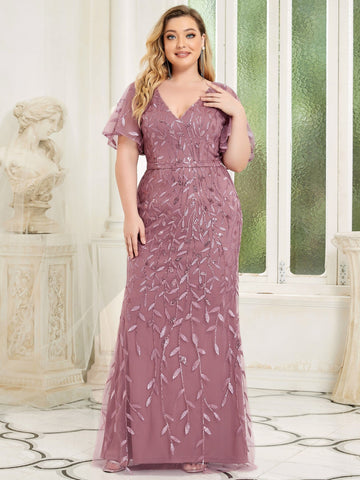 The gorgeous V Neck fishtail dress features a beautiful fishtail silhouette with beautiful ruffle sleeves and a plunging v-neckline that will show off your style in all the right ways. The belt for the waistline makes this piece perfect for a bridal mother looking for something more traditional and sophisticated to wear on her daughter's big day!
2. Flowy A-Line Lace Mother Dress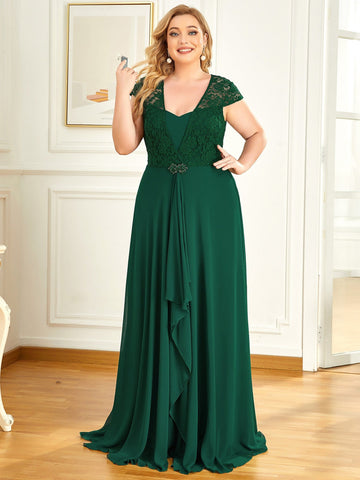 If looking for a long plus-size dress for the mother of the bride, then this cap-sleeve maxi dress is perfect for the occasion! The cap sleeves and floral lace bodice will provide coverage and a modest look that can't be beaten. The beads decorated at the waist will bring a touch of style to the simple silhouette of this elegant piece. Get ready to go home with compliments all night when wearing this gorgeous long maxi dress.
3. Sequin Bodice Long Mother of the Bride Dress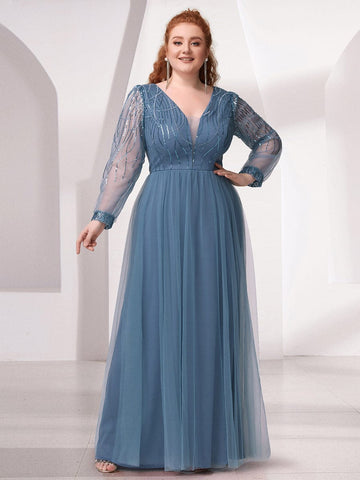 Perfect for a wedding, this long sleeves sequin bodice maxi dress is sure to impress all your guests! The deep V-neck makes this dress looks trendy and see through sleeves are the perfect combination for a lady who knows how to carry herself! The paillete design gives the dress a touch of elegance and will make any occasion feel like a true celebration. Pair it with stunning jewelry and the perfect clutch to complete your look.
4. Curvy Plus Size Long Lantern Sleeves Chiffon Mother Dress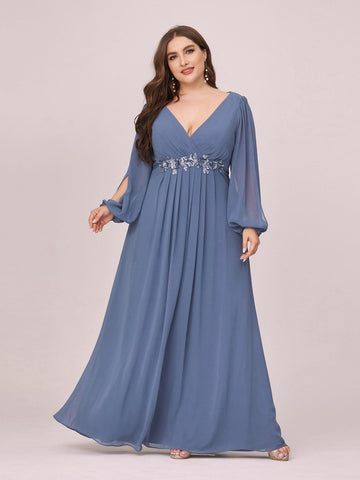 The stylish plus size long lantern chiffon sleeves dress is a perfect dress to pick for your daughter's wedding! With its V-neckline & long bishop cut sleeves that end in a delicate cuff of scalloped lace trimming, this dress will ensure that your style is timeless and elegant in any event. Available in a variety of sizes, there is sure to be a fit for every woman.
5. Glittery Sequin A-Line Bodice Full-Length Mother Dress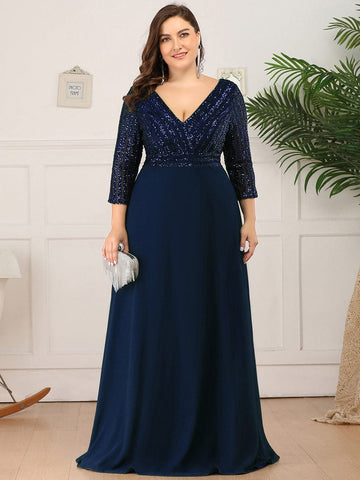 This gorgeous V-neck sequin a-line bodice dress is a must-have wedding outfit! With its deep V neckline and flowy A-line skirt, it is perfect for all occasions! The sequins stripes give this dress a little extra shimmer and the 3/4th sleeves provide a more modest option for those who prefer it. Whether it be for a wedding or a formal occasion, this sequin dress is sure to be perfect!
6. Floral Sequin Fishtail Tulle Mother Dress
The floral sequin fishtail tulle maxi long dress is a dazzling dress that will make you the most attractive mother! The shimmery leaf design will have heads turning as you walk by your daughter and the delicate details make this dress the perfect outfit for any special occasion. With a round neckline and half sleeves, this dress is sure to be your go-to for any event that comes your way!
7. Single Shoulder Flower Embellished Long Maxi Mother Dress 
The chiffon one-shoulder long maxi dress is the perfect dress for an elegant occasion. The dress features a pleated sweetheart neckline and the shoulder strap is embellished with flower detailing. The long maxi skirt makes it perfect for wearing to weddings, proms, homecomings, and formal events of all types. The dress comes in sizes Small through Plus Size so there is sure to be a size that fits your needs!
8. Flowy Chiffon V Neck Maxi Dress with Wraps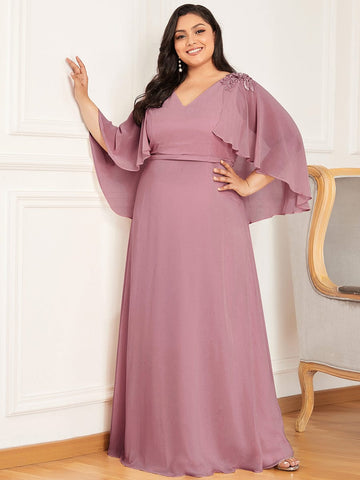 This flowy chiffon v-neck long dress is perfect to wear for any occasion, from a wedding to a party! The flowy chiffon skirt is modest and comfortable and the V neckline is perfect for showing just the right amount of skin without going too far. With short sleeves and an empire waist, this dress can easily be dressed up or down to match any occasion or mood.
9. Simple Yet Elegant Lace Bodice Long Mother Dress With Belt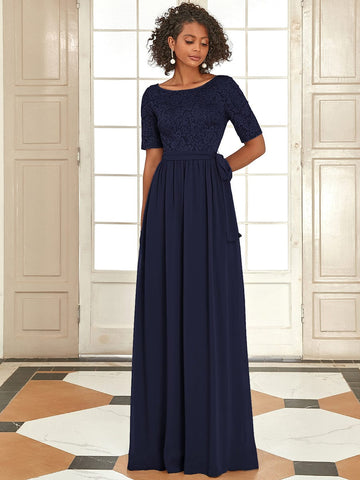 The elegant lace bodice maxi long dresses with belt is a classy and sophisticated gown that's perfect for any special occasion such as a wedding, prom, or formal event. The floor-length gown features see-through lace on the top and a classy flowy skirt. The deep V back makes this dress ideal for a mother of the bride or groom because it will allow them to wear any necklace or accessories with their dress.
10. Floor Length Plus Size Cap Sleeve Dress
An elegant plus-size cap sleeve long lace maxi dress is perfect for a special occasion. Made of chiffon fabric with lace details at the neckline and ruching in the waist and bust, this floor-length dress is elegant and stylish. The lace detail on the neckline shows off a lovely collarbone and give a modest look. Pair this long maxi dress with black heels and a statement necklace to complete the outfit.