Dress codes are tricky if not hard for most of us because there are so many of them. From white tie to black tie, semi-formal to smart casual, it is pretty difficult to remember what each of them means. Luckily, there are some dress codes that are more common like cocktail attire.
We have all heard of the cocktail dress code and with so many invitations filling up our social calendars, there is bound to be one or two invites with the words "cocktail attire" printed on them. Cocktail attire is a standard dress code for many parties and functions held in the evening. Yet some people may still be unsure about what to wear.
Cocktail Attire for Women
So, what does cocktail dress means? This dress code is derived from the cocktail hour which is in the late afternoon or early evening hours when people used to socialize. The cocktail dresses worn by women during those times were dressier than the daytime look and more casual than formal dinners. Simply put, a cocktail dress is a semi-formal dress where it is relatively formal but not too formal. It is a nice balance of elegance with comfort and formal with casual. If you have received an invite that requires cocktail attire, it is time to dress up and feel glam.
Cocktail Dresses
Cocktail dresses are one or two steps more elevated from your regular work dresses. Often made with more luxe fabric such as satin or silk, they also feature embellishments like sequins and embroidery. Unlike going-out-to-dinner dresses, a cocktail dress is one that would make you feel dressed up for an occasion. When choosing a cocktail dress, it is best to select dresses that are not too short or too long and have more tame necklines. Typically, the hemline of the cocktail dress is right above the knee. If you want something that is a little bit longer, opt for a midi dress for a more streamlined look.
Cocktail Dress For Different Occasions
There are different cocktail dresses for different occasions. For example, there are casual cocktail outfits, formal cocktail attire, and festive cocktail attire. All of these dress codes fall under the main cocktail attire but may require different styles.
Casual Cocktail Dresses
For casual cocktail, the dress styles are more relaxed and perfect for garden parties or summer functions. These dresses will be a little brighter and more comfortable to wear. You can opt for a dress that is loose such as a flowy or shift style dress. Light colors and more relaxed patterns are ideal for this look. Instead of sequins or glittering designs, you can choose a simple style and accessorize with a chic bag and a pair of block heels or wedges.
Formal Cocktail Attire
Formal cocktail dresses are like cocktail with a touch of black-tie. This dress code is common for weddings and is a dressier version. The best for formal cocktail dress is a fancy black dress.  Other neutral hues and black are great choices. Pick a dress that is made from high-quality materials and a hemline that is not too short. You can pair your dress with some sophisticated accessories to complete the look. Do keep in mind that a formal cocktail dress is fancier than the regular cocktail attire so it is alright to get a little dressier.
Festive Cocktail Attire
Usually, the dress code for holiday parties, festive cocktail attire is similar to a regular cocktail attire except that it has a festive touch like glitters and bright colors in its overall aesthetic. Opt for a red dress or a dress with gold sequins, metallics or anything that glitters. 
Trendy Plus Size Cocktail Dresses You Need To Keep On Your Radar
Ahead are some of the trending cocktail dresses for plus size ladies from Ever Pretty, a leading online retailer that specializes in a curated collection of plus size dresses for special occasions. Ever Pretty has the right styles for every curvy body and its collection is designed with women in mind. They know how to make all curvy women feel beautiful in their own skin. Its size-inclusive dresses are available from size 2 to size 24. 
Time to embrace and show off your gorgeous curves in one these figure flattering plus size cocktail dresses.
Bodycon High Low Velvet Cocktail Dress
Show off your classy style and make a memorable entrance in this beautiful plus size velvet cocktail dress. Made from high-quality velvet fabric, it features gold tamping designs that make the dress look luxe.  It has a round neckline and long sleeves that offer comfort, style, and elegance. This gorgeous dress also features a high-low hemline with a fishtail silhouette.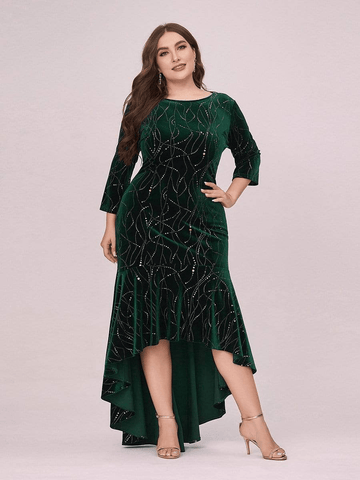 V Neck Lace A-Line Cocktail Dress
Delicate lace adorns this romantic dress. Featuring a V-neckline and fitted bodice. This plus-size formal cocktail dress has a sweet charming appearance with a V neckline that features a zig-zag design, short cap sleeves, and a slimming waistband. This knee-length dress flaunts the figure in an A-line silhouette that flares from the waist. This cocktail dress is designed to make that special occasion worth remembering.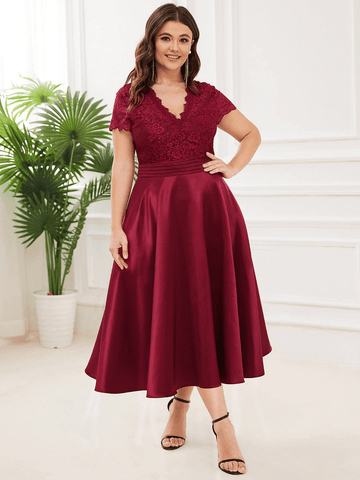 V Neck Midi Chiffon Cocktail Dress
Create the perfect evening by wearing this elegant and super stylish midi plus size dress. Featuring a ruched V neckline that wraps around the ruched bodice, it has a matching waistband that highlights the waist. The swaying chiffon dress has a flowy and soft skirt with an asymmetrical hemline in a sheath silhouette. Charm everyone in this sweet-looking midi plus size cocktail dress.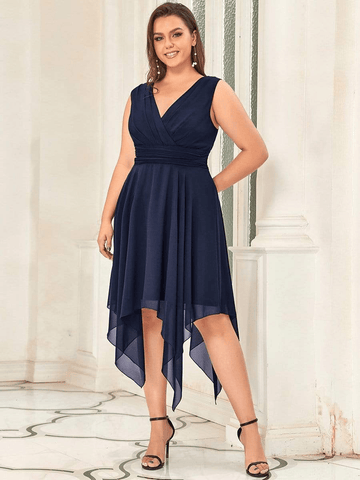 V Neck Asymmetrical Hemline Cocktail Dress
Start the night right with this stylish dress. It enchants in a sleeveless V-neckline with a fitted bodice and gorgeous lace trimmings. Adorned with glittery beading, this spaghetti strap dress has an A-line skirt with an asymmetrical hem. Stand out and have a blast in this cocktail dress.