The end of the year is near, and many parties and types of celebrations are starting to have their dates fixed for 2023, so it's always good to choose your outfits in advance.
It's not only about the dress, though. When attending a formal event, there are many aspects you need to cover to look impressive: from makeup to hairstyle, shoes, purse, and jewelry. Well, at least the dress will be covered after you finish reading!
We designed this blog to give you an overview of different formal dress ideas you should consider if you are planning to attend any parties next year and you want to stay trendy and elegant. Continue reading and find out more!
Formal Dress Trends for 2023
When discussing formal dress trends, they change every year as fashion moves forward. This is a list of trends that will be absolutely hot next year.
Lace: This type of material is always a classic and looks elegant while adorning the dress to the point in which you don't even need to add jewelry.
Sequins: Let's face it; a balanced amount of shine on a dress makes it look absolutely stunning. This is the case with sequins. Sequin dresses have been a trend for some time now and will continue to be next year.
Velvet: What's good about this material is that it's perfect for cold weather as it's thick and warm. With a shine of its own, this material looks both elegant and formal.
High low skirts: this is great if you want to show just a bit (but not too much) of skin. If you choose this style, you can opt for a stunning pair of shoes and show them off together with your beautiful legs!
Short dresses: who says formal dresses must be long? You can absolutely choose a short dress to wear to a formal party. Just make sure it's elegant and classy, and you'll be more than fine!
Midi style: midi dresses have always been a classic and they are back this 2023. Again, this style offers you the perfect opportunity to show off some skin and also wear a great pair of shoes!
Pleated dresses: Pleated skirts are not only elegant but also stunning and highly decorative to the dress, so you won't need to add many details. Beware that this style is not ideal for pear-shaped bodies, as it tends to visually enlarge hips.
Formal Dress Trends: Our  Picks for You
We've introduced you to the most popular trends for formal dresses in 2023, so now it's time to take action. Check these 5 formal dress options and go with your favorites!
Elegant Short Sleeve Lace Formal Dress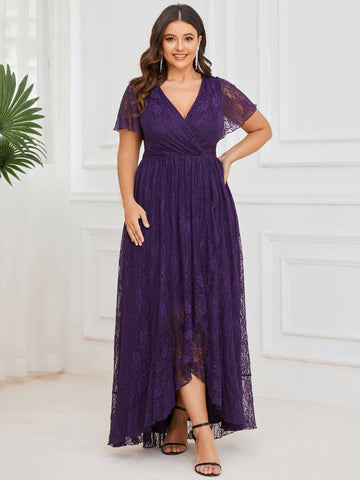 If you're looking for a sophisticated appearance, this elegant lace dress could be a great option for you. It has comfortable short sleeves and a cinched waist with a deep V-neckline. Its A-line cut and floor-length skirt speak for themselves! This dress has a concealed zipper on the back, and it's padded so you can just forget about bras. It has a lining, and the fabric is low stretch.
Beautiful Pleated Shiny Formal Dress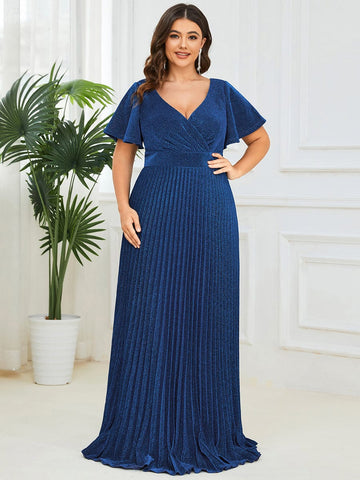 Shine, shine, shine! That's all you'll do in this beautiful dress. The V-neckline and the pleated floor-length skirt make a perfect elegance team. It also has short, ruffled sleeves and a belted waist that accentuates your curves. The dress has a concealed zipper up the back.
Make picture-perfect memories last wearing this beautiful evening dress. A plunging v-neck and short ruffled sleeves offset the comfortable yet flattering belted/cinched waist and flowing pleated silhouette. Wear this pretty evening dress as a bridesmaid or mother of the bride.
Fancy Sparkly Short Formal Dress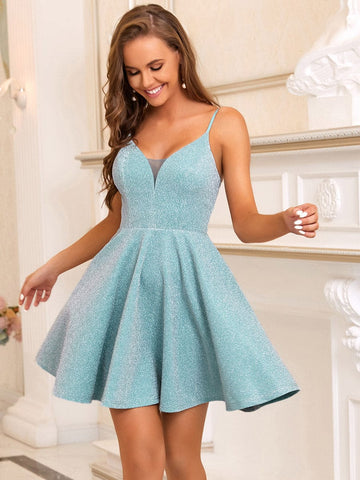 Have all heads rolled on you with this elegant and sparkly short formal dress that will show off your legs! The knee-length skirt has enough volume to benefit both curvy and smaller girls and the spaghetti straps add the right amount of delicacy. The dress has a concealed zipper on the back, and it's padded so you can comfortably wear it with no bra. 
Stunning High Low Formal Dress with Sequins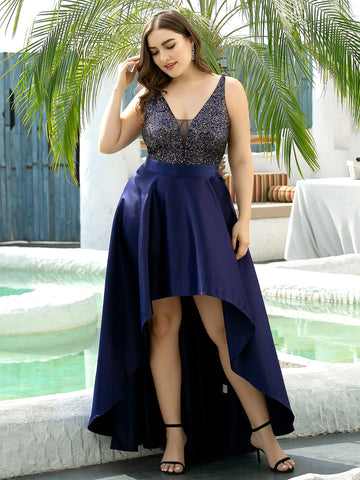 This formal dress has a combination of two of the trends for 2023: high low skirt and sequins. If you want to look stunning at your next formal event, this dress will do the job. It has a heart-shaped bust area, and the bodice is shiny. Perfect to combine with a great pair of shoes. You can forget about jewelry! It has a concealed zipper on the back.
Amazing High-Low Velvet Formal Dress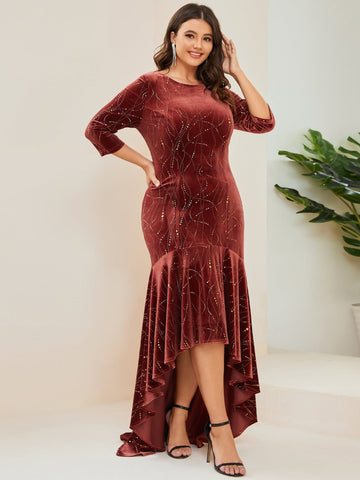 This is one of the most beautiful velvet dresses available at Ever Pretty's store, and it's a great option for a formal event. It has a high-low fishtail skirt and gold stamping all over it, adding a special decoration. The round neck and long sleeves combine perfectly to show just some skin. The dress has a concealed zipper on the back.
After checking the hottest formal dress elements for 2023 and our picks, you can now be ready to rock the next formal party. Have you chosen your favorite yet? Make sure you do and be ready to look stunning!