Trying to figure out your body shape only takes a few simple steps such as measuring your body. Many women struggle with trying to determine what their body shape is and what styles suit them and what to avoid.  The fear of making the wrong choices and wearing unflattering clothes often deters them from trying out new styles. If you often face this problem, then you ought to read on to solve your dressing woes. When you know your body shape, you can select the perfect type of clothing style and learn how to dress your shape.
In this article, we will be discussing plus-size strawberry shapes and how to dress for this unique body shape.
What Is A Strawberry Shape?
You may have heard of apple shape and pear shape bodies but how do you know if you have a strawberry body shape? The strawberry body shape is synonymous with broad shoulders and a narrow waist and hip area. It is also known as a V body shape or inverted triangle body shape.  Most often, women with a strawberry body shape have a great bust, small hip and flat derriere. The shoulders are prominent and have a strong squareness to them. If these descriptions describe you, then you may have a strawberry body type. This specific body shape is also called the inverted triangle.
When it comes to dressing well for the strawberry body type, the main aim is to balance the top half with the bottom half to make the body more symmetrical while at the same time, create more definition to the waist and giving the illusion of a curvier shape. It is important to accentuate the hip area to create an hourglass silhouette and to avoid widening the upper body. Minimize shoulder lines by avoiding too much embellishments around this area and the bust.  Instead, add volume and drape below the waist for a more balanced appearance.
There are many tips and tricks on choosing the perfect type of clothes to wear.
Flattering Dresses For Plus Size Strawberry Body Shape
While inverted triangle body types have the risk of appearing top heavy and wide, there are quite a number of dresses that can help to create the perfect proportions and which your gorgeous figure looks fantastic in. Let's dive in to find out.
Dresses that flare out around the hips and define the waist are what you need. For example, the sheath dress is a great option for plus size strawberry body types because it creates a fitted waistline while offering ample definition and shape at the hips.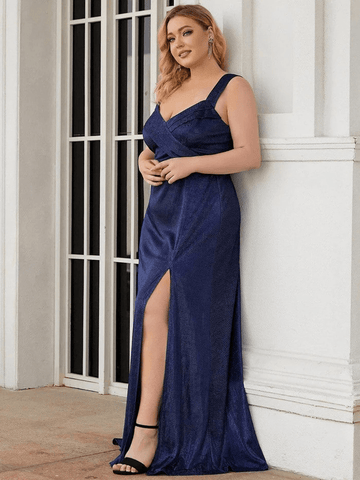 One of the favorite silhouettes is the wrap dress that elegantly elongates the neckline.  This type of dress design is great for both formal and casual occasions. Wrap dresses draw attention down from the shoulder to the slim waistline. Thus, wrap dresses are extremely flattering. If you prefer more coverage, opt for wrap dresses that have loose, feminine sleeves. If you are petite and want to elongate your look, choose maxi wrap dresses. If not, show off your legs with shorter hemlines.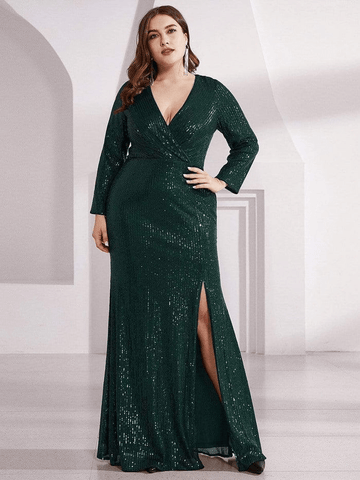 Skater dresses add volume to the lower half of the body while giving a youthful appearance. Opt for lightweight material so that it will not weigh you down. Skater dresses flare out and helps to balance out your figure and even out your silhouette.
Another great dress style is the fit and flare dress which nips at the waist. They are especially flattering since they define the waist.
Wearing dresses that cinch at the waist is a universally flattering style tip.  When you highlight your waist which is the smallest part of this body shape, it creates a slimming effect to the body as a whole. As the aim is to specifically flatter a strawberry body type, it is best to not just cinch the waistline but also wear dresses that flare at the hip in combination. A-line and peplum silhouettes are great. They not only enhance the waist, but also add balance to the hip area.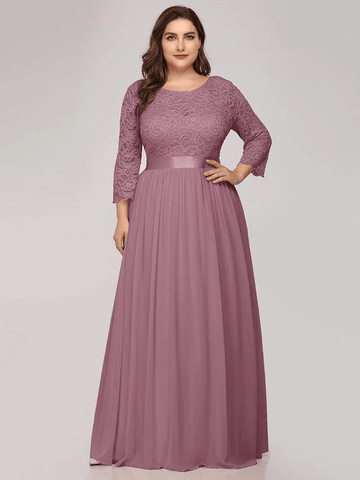 Below is a list of dresses that are great for plus size strawberry body shapes:-
One-shoulder dress
Peplum dress
Pleated skirt dress
Maxi dress
A Line dress
Dresses To Avoid
Dresses that inverted triangle shape women should avoid are bodycon dresses, fitted dresses, and dresses that feature a lot of bust or shoulder details. Anything that is too fussy or voluminous on the top half is not flattering at all. Also, avoid dresses that are too tight or have a straight fit.
Flattering Necklines For Plus Size Strawberry Shape Body
Choosing a neckline for this type of body shape is the key to building a wardrobe that complements your shape. The neckline needs to minimize the horizontal line on the shoulders and bust.
Asymmetrical - An asymmetrical neckline works well as it helps to draw the eye away from the wider shoulder.  Instead it is creating a strong diagonal line for the eye to focus on. A one shoulder dress or asymmetrical neckline dress will break up your broad shoulders and this will help to achieve a visual balance.
‍V-Neck - This classic neckline can help to elongate the neck and lengthen the appearance to balance out the broad shoulders.
Square Neckline or Sweetheart Neckline - If a low V neckline is not your  style, you may choose square or sweetheart neckline. They are not as dramatic, but still very trendy.
Halter Neckline - Dresses featuring halter necks will cleverly balance out the wide shoulders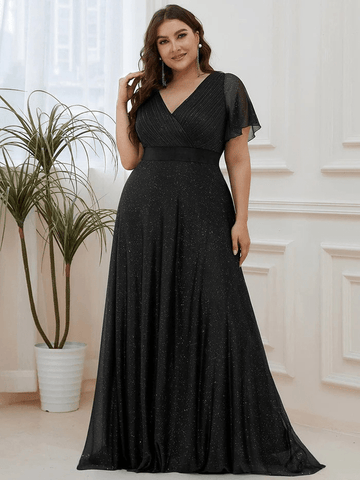 Necklines To Avoid
Necklines that are too wide or low should be avoided as they would simply add width to the bust and shoulders. Choose a narrow scoop, gentle and sharp V-necklines instead.
Sleeves Style For The Plus Size Strawberry Body Shape 
The plus-size strawberry body shape needs fitted slim sleeves as you want to downplay those broad shoulders so that the hips can carry visual emphasis. So puff sleeves and shoulder embellishments are a no-no!
If you want long sleeves, you can try an open volume sleeve, or a sleeve that does not taper at the wrist.  This will give it a bit more emphasis to the hip area.
You need to also pay attention to the material when looking at the shapes of the sleeves. Flowy, soft fabric will create a soft shoulder line while a structured fabric will create a sharper line and add more prominence to the shoulder.