The challenging reality about formal and party dresses for women with a bump is that you can't just swipe right on all of them. Formal wear designers, rather than create one dress template, have to create a range of shapes and silhouettes to suit the unique body types of all expectant brides. So, when it comes to shopping, you'll have an easier time narrowing down your options and finding the one that suits you.
Before you choose the perfect dress for your prom, be sure to have a basic understanding of the wide variety of dress styles available to suit different body types. While some dresses may be better suited for larger or smaller frames, there is always a way to make a look work. As long as you're confident and comfortable while wearing your look, you'll shine at prom this year just like any other gal!
One way to do this is by considering your body type. Some women can pull off short dresses, and others stand out in long gowns. Be sure to read up on each body type so that you can find the dress that looks best on you.
For busty women - When dressing a busty body type, it is essential to make sure that your top and lower halves are evenly balanced. Large breasts often draw attention to the midsection of women, while creating a wider silhouette at the hips and thighs. To balance out this powerful look, choose clothing that brings the eyes up towards areas of your body where there is less attraction, such as the neckline or shoulders. It's important to wear clothing that suits your body type and accentuates your assets while drawing attention away from trouble spots, like a fuller tummy or shorter legs.
For apple-shaped bodies - Dresses that hug your body in all the right places can be a challenge to find. The apple body type is a classic silhouette that looks good on many different body types. Empire waistlines, embellishments, and a-line skirts draw the eye upward, while full skirts or ruffles flatter the midsection. Love your legs? Be sure to show them off in one of our short designer dresses! No matter what body type you have, there's a chic bump designer dress that will make your curves look amazing.
For hourglass-shaped bodies - The hourglass figure generally has a pear-like shape with womanly hips and a curvaceous bust line. This body type is ideal for empire waistlines, ruffles, and empire tops or fitted tops for emphasizing curves. Pants or dresses with flattering patterns, such as A-lines, are also great choices for this body type.
For this body type, flowy shirts that accentuate the bust and flare out over the hips will give you a super hourglass shape when paired with skinny jeans or leggings. It's also important to present yourself confidently to make your assets pop out at people sometimes though!
5 Amazing Bump Friendly Formal Dresses
The trends have changed and the choice of maternity clothing has been revolutionized. No longer are you limited in your selection of maternity wear that is either overly frumpy or only appropriate for certain occasions. With these chic bump-friendly formal dresses, you can feel comfortable and stylish on every occasion.
PinkBlush Green Chiffon Long Sleeve Pleated Plus Maternity Maxi Dress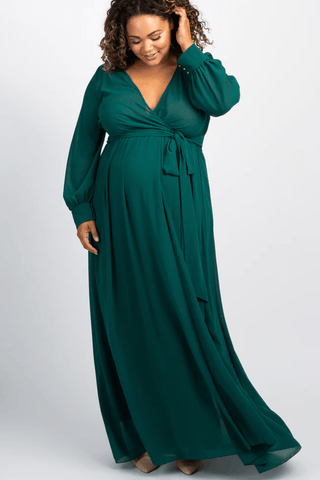 Your baby bumps will be meeting with family, friends, and co-workers at a regular pace as you become the go-to gal for shower invitations. The forest green wrap style of this PinkBlush Maternity special occasion dress adds a festive touch without sacrificing practicality, as the V-neckline can easily accommodate your breast growth during pregnancy. The wrap-style design is flattering on any figure type, but it also comes in handy later when you're nursing your baby with ease. The fabric stretches to adapt to your growing belly size.
Petal & Pup Domenica Shirred Long Sleeve Midi Dress - White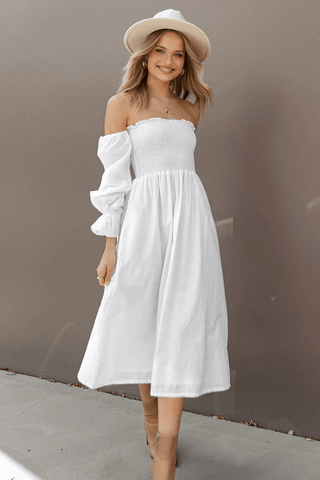 The Domenica Shirred Long Sleeve Midi Dress is a fashion-forward maternity dress that may give you the stylish edge you need to impress at work. The elegant midi length allows for modest coverage and easy flexibility, while the elasticized straps with shirred bodice help accommodate your growing body without sacrificing style. The functional pockets will be especially valuable as the birth date approaches, allowing you to carry around important items like diapers and wipes. With its unique off-the-shoulder design, long sleeves with elasticized shoulders, and an ornate ruffle cuff at the sleeve, it is a must-have that will take you from season to season regardless of the weather outside.
Seraphine Navy Blue Silk & Lace Maternity Evening Dress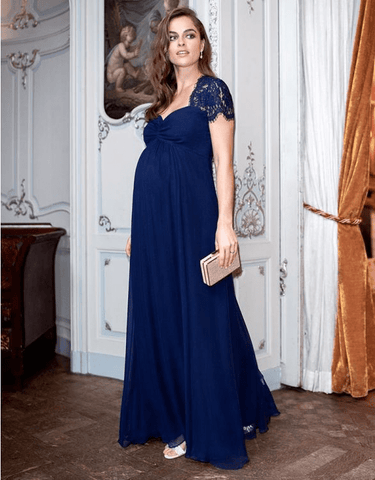 This floor-length bump gown would be a smart choice for the modern bride who wants to stay cool during the warm summer days of her nuptials. With the help of the empire waist and stretch-back panel, you will easily remain fashionable as you move about throughout your celebrations. The lightweight material makes this dress breathable and soft against your sensitive skin as well.
Don't be surprised when your friends ask where you purchased this gorgeous gown because it's so eye-catching that they have to have one just like yours.
Ever Pretty Chiffon Short Sleeve V-Neck Vintage Prairie Floor-Length Bridesmaid Dress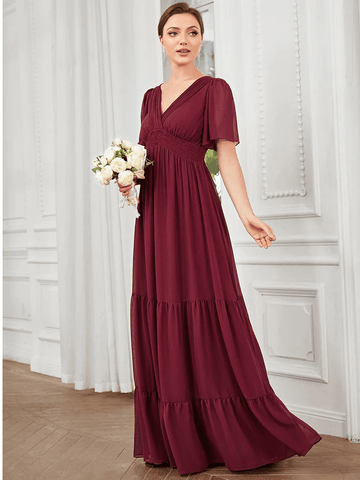 This beautiful piece is anything but classic. With its daring color, but classic cut, this dress will make a statement that you are as elegant as you are daring at your next event. Designed to offer wedding parties a variety of flattering styles, the Chic bump-friendly formal dresses for every body type 2023 enrich any wedding party. The sleek, timeless design is brimming with feminine allure and wins over even the most discerning bride. The soft tulle and flowing chiffon material deliver an eye-catching shape that is both easy to move in and comfortable to wear.
   5. Stowaway dresses for pregnant women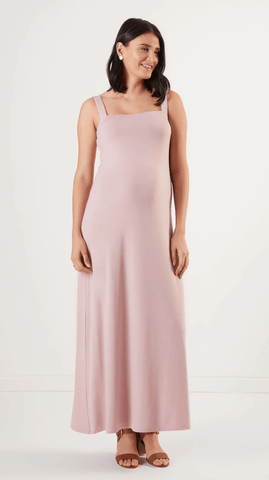 Stowaway dresses for pregnant women have become increasingly fashionable, as many expectant mothers have discovered that they love the feeling of wearing a formfitting dress. The lightweight fabric and stretchy waistband allow moms-to-be to wear Stowaway dresses almost up to the birth of their babies with minimal discomfort. Stowaway-collection-Cara-maternity-maxi-dress is intended to be stylish without sacrificing practicality, which is unusual for maternity wear. The full-length skirt helps keep moms-to-be modest while they're out on the town, while the stretchy waistband lets them breathe easy and dance until they drop.