Best 13 burgundy formal dresses for wedding
Picking a dress for a wedding can be a pretty hard job, so this collection of the top 13 burgundy formal dresses will make your wedding all glittery, shiny, and memorable. Burgundy, a popping shade of red, is going to add the ultimate beauty to your style, so here we have a versatile and timeless list of the most jaw-dropping dresses:
Mini Ruched Dress by Windsostore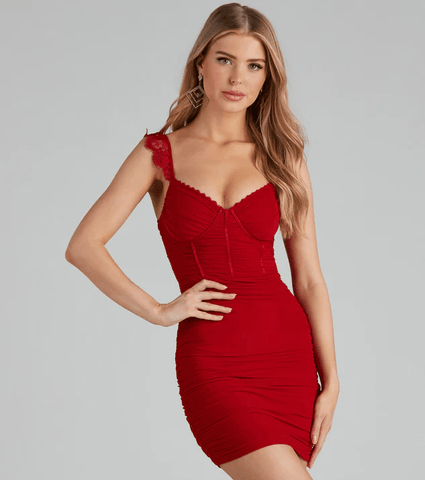 This formal mini dress from Windsor store is made with Lace Vixen Ruch, It has a sexy elemental touch to itself which makes every head turn in the crowd. Having a short-length hem, this beautiful dress offers a ruched corset-style bodice coupled with a detailed neckline and padded cups. The overall dress is styled with mesh-lined fabric that will compliment your body curves.
    2. Puff-Sleeved Chiffon Dress by Ever Pretty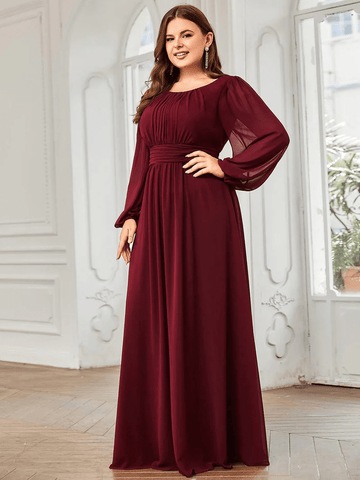 Ever-pretty never fails to surprise us with its formal collection. This burgundy colored dress is aligned with puffed lantern-like sleeves which leaves a romantic outlook. This chiffon Empire Waist ruched dress is a perfect fit for a formal occasion like a wedding. On top of the elegant puffed sleeves, this dress is composed of sheer fabric with a floor-length and A-line silhouette. So, if it is an outdoor wedding, get ready to slay in this flattering dress with a pair of nude heels. 
V-neck Fishtail Dress by Ever Pretty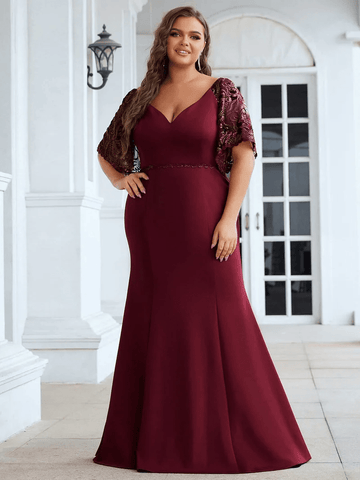 This burgundy formal dress has an overall design of sequined net that falls into a V-shaped neckline and flared sleeves that will make you look extremely beautiful in your own shape. The flattering style of this formal dress is bound to up your confidence game on an occasion as special as a wedding.
Iris Slit Crepe Gown by Nordstorm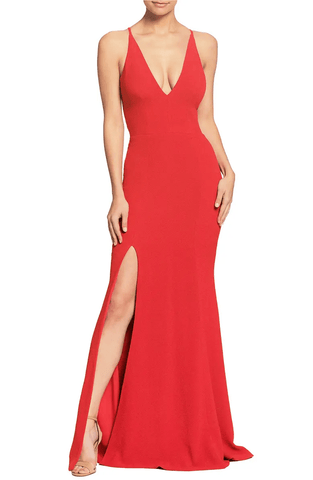 When it comes to weddings, this Iris slit crepe gown colored burgundy is going to make you look stunning, simply put. With a deep V -shaped neckline and princess-like seam, this formal wedding dress will leave a lingering impression of elegance and beauty wherever you go. The Iris Slit along the crepe gown creates a touch of drama. Not only that, but the skirt creates such a flare that ends with a neat floor-sweeping finish. 
Strapless Slit Satin Ballgown by Nordstorm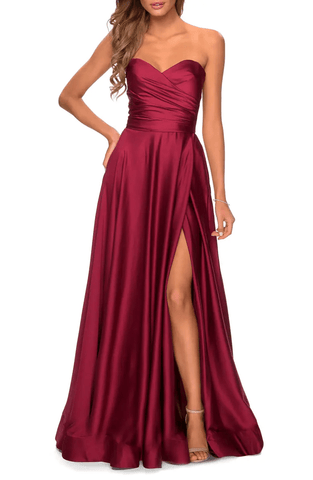 Whether it is an evening party, prom, cocktail, graduation ceremony, or formal wedding, get ready to glam up any formal affair with this Strapless Slit Satin Ballgown that comes in a popping color of burgundy. With a beautiful silhouette that offers a luminous shine, you will be able to twist and turn in an elegant manner as its skirt swirls. Its upper body part has a gathered crossover that has a beautiful impression on the body curves.
Cinderella Divine Dress by NewYorkDress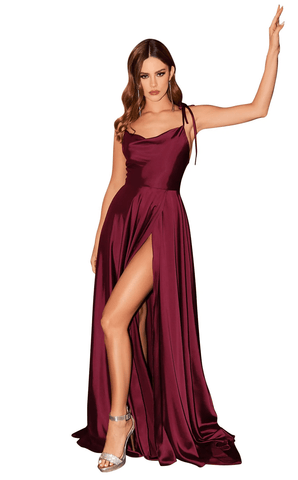 Dive back into the classical fairy tale of love with this full-body-length dress composed by Cinderella Divine. In its simplicity and elegance, hides a column silhouette. This chic look features a sleeveless bodice coupled with a natural waist and another neckline.
Balloon One Shoulder Sleeved Dress by Windsorstore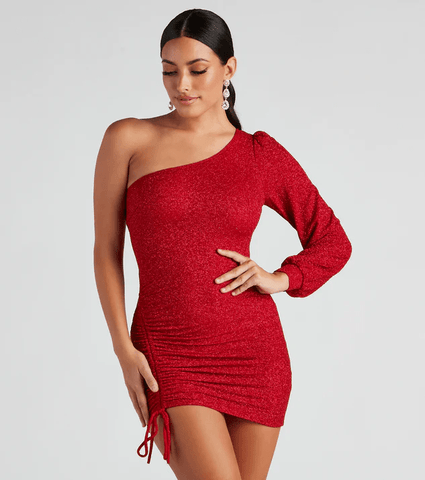 This mini formal dress covered in glitter and a sparkly shade of burgundy color is here to make your wedding occasion twice as special. Styled with a single-shoulder balloon sleeve, this dress falls into a short-length hem that will boost your body language as well as confidence. With a front tie ruching, you can easily pull this bodycon dress off with a pair of golden earrings.
Corset Satin Formal Evening Dress by Dylan & Davids
If you have a formal wedding coming, this satin formal gown is made with a defined corset that will give your body a perfectly flattering look. Featured with a sweetheart neckline and a fitted bodice, you will be able to showcase this stunning dress in the best way possible. In addition to that, the dress falls into a sweeping flirty finish. The shoulder sleeves on this dress are removable and can be easily turned into a sleeveless one.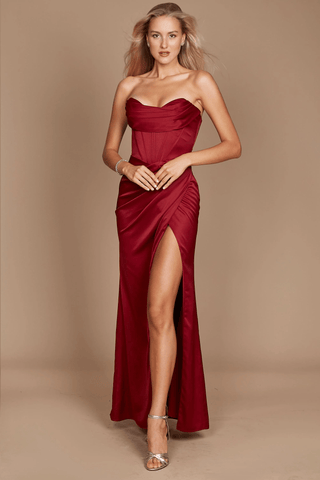 Off-the-shoulder Neck Dress by Promfy
This dress gives off a mermaid shape offering an elegant touch of the off-shoulder bodice. So, if you are looking for an absolute hit on the formal occasion of a wedding, this floor-length mermaid dress with a beautifully detailed neckline will glam up your evening to a great extent.
One Shoulder Sequin Floor-length Dress by TheDressOutlet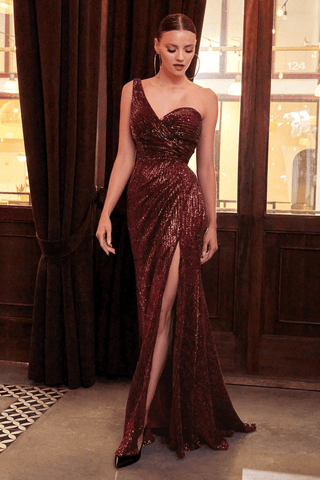 Featuring a sweetheart bodice and embellished with drapes all over the skirt, this long dress should be your go-to choice when the talk of the wedding comes up. As the chest part is beautifully pleated and the lower part delivers a flattering fit, the complete look reveals a sexy impression. Let's not forget the elegant add-on of one shoulder sleeve with sequins while the side leg opening is the attention stealer.  
Crepe Fabric Sleek Body Fitted Dress by Verishop
Featuring a plunging V-shaped neckline gives a feminine touch to the entire dress, making it twice the sexier. With a body-fitted shape, this dress offers a sleek shape that sits in the right places of your body. The dress length reaches just below the knees, so it is as elegant as it is sexy. With a low-curved back, there is a form-fitting skirt that completes this chic look. For mobility, a slit is styled on the back as well.
High Mock Halter Neck Dress by BloomingDale's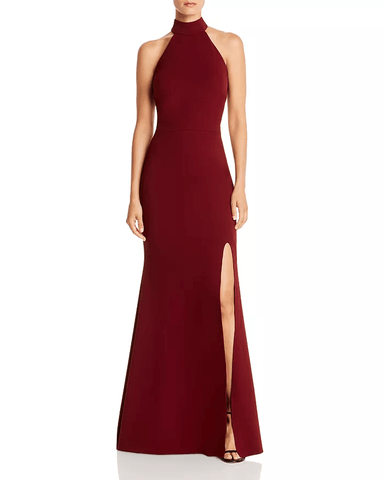 This extremely gorgeous high mock halter neck is one decent option if you wondering what to wear at a wedding. The details around the bodice including the sleeveless and cut-in shoulders will leave a jaw-dropping effect once you walk in. On top of that, the color burgundy goes perfectly with the flirty style of a leg slit on the left side. Bearing a seamed waist, this Blooming Dale's exclusive dress can be your perfect fit.
V-neckline Dress with Flutter Sleeves by Dear Cleo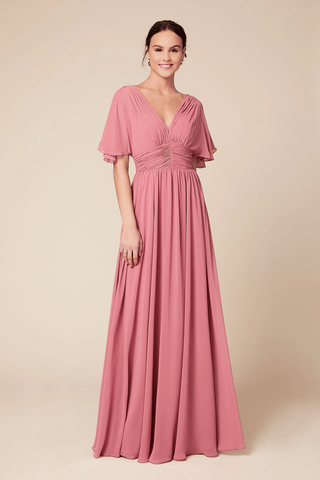 This sublime piece of the dress features the most beautiful pair of flutter sleeves. This style creates a whimsical statement paired with a V-shaped neckline. The back side falls into a draped waist coupled with fluttering sleeves. As you walk, turn and twist, this flowing skirt will leave a flattering touch to your style.