Finding dresses that fit an apple-shaped body isn't easy. Women with bigger waists, smaller busts, and thicker thighs can experience frustrating gaps in clothing that don't accommodate their unique shape.
Apple shape dress is a special kind of clothing that is suitable for apple-shaped women. Being apple-shaped means you have a large waist-hip ratio and a small upper body. Your waist is similar to a vase and your hips are similar to its stem. You should know that an apple-shaped body does not always mean you are overweight. It can also occur because of aging or some diseases though!
Styling the Apple
Apple-shaped figures carry more weight in their upper torsos, with smaller hips and thighs. To balance the upper body, choose clothes that add curves to the lower body. To downplay the midsection and define a waist, wear shirts and coats that hug the torso.
Display your resources
When styling your body type, aim for a look that magnifies your positive attributes. Your best features are often the bust and/or legs, so dress to highlight them. Stay away from shapeless layers of fabric in this area and instead opt for fitted clothing that softly hugs your figure. Details can help draw more attention to your best parts, so keep them on top of your ensemble. For everything below the waist, opt for simple outfits with fitted hemlines instead - if you want attention to stay above the hips and below the waistline. With a crop top that features fun fringing around the bottom or shorts made in several colors, you'll create an eye-catching effect without sacrificing classic style.
Define your waistline
No matter what your size is, most people describe themselves as having either a small waist or a flat stomach. This is because clothing that skims over the waist but nips in at the bust and high around the neck makes the waist look narrower. Many different designs create this same illusion. Wearing clothes that draw the eye up can help create an illusion of having a slimmer midsection. Choosing lighter colors when shopping is one way to do this, especially bright shades that complement your complexion and drawing the eye up toward your face.
A pushup bra can shape and improve the look of your chest, giving extra lift.
Opt for midriff-baring tops to show off your waistline, or use darker colors on tops in this area to make it look smaller.
Also avoid horizontal stripes around the waist as they tend to visually widen it and draw attention away from other areas, such as the bust line (or cleavage). But ultimately, everything comes down to personal taste, though.
Tops
Necklines
The main issue with a large bust is the extra attention it draws to your midsection. Plus, clothing often doesn't fit well over a larger chest, which makes it difficult to find clothes that are flattering and hide your tummy.
A wide neckline creates a visual separation between the chest and waist, while a low neckline elongates the torso. As a pear-shaped woman, you won't want to play it safe in the triangle department. These looks are perfect for casual Fridays or when running errands. Describing them makes it easier to imagine what they look like and how they could be worn, thereby increasing the likelihood of purchase.
Sleeves
For the apple body shape, long sleeve dresses help the arms and create volume in a narrow section of the upper body. Draped sleeves or shoulder pads are good choices for thin arms, while wide or cap sleeves can add fullness to the upper body. Avoid fitted sleeves that do nothing for your figure. Gathering on the wrists will give you a smaller appearance on top and more space on the bottom; cutouts will treat no harm even though they add a little bit of sex appeal.
Knitwear
Knitwear — particularly the jumpers so common in cold-weather wardrobes — naturally emphasizes the fuller body shape. This is even more true for women with apple-shaped bodies, whose curves tend to be largest around their waists.
The best way to flatter this body type is to choose loose knits that fall right at the hip bone, elongating the torso and emphasizing a smaller waist while still hiding any bulges around the midsection. Drawing attention towards an area of your frame you're proud of will create a natural apple-body figure on its own. Finally, avoid anything too tight or otherwise pulls tightly against your tummy.
Bottoms
Apples have fuller thighs and more volume in their lower half. When choosing trousers, aim to balance this out with the upper body through the use of bold colors or a high waistline to create an hourglass figure. Trousers should also be fitted around the mid-section while being loose below the hips, such as those on wide-leg pants. Side pockets can add curves to your hips when placed correctly, making a tapered leg line look slimmer. Finally, stick to plain colors and fabrications like denim and wool that avoid emphasizing the thighs.
Apple body types tipically pair best with boxy or looser clothing options, such as large t-shirts or sweaters that don't hug your frame.
Long Chiffon Empire Waist Bridesmaid Dress with Short Flutter Sleeves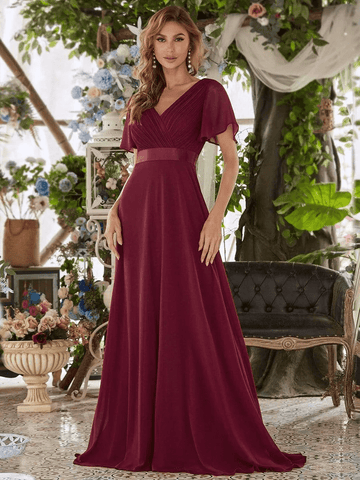 The sequins in this long bridesmaid dress give off a subtle glimmer during the day, while the satin lining gives it a superb sheen. The best part about this dress isn't just its beautiful appearance, but also how comfortable and easy to wear it is. It's a breathtaking formal dress that has a cinched empire waist with intricate lacing to make you look as good as you feel. It also has short sleeves to amplify your movement and a light fabric that lets you feel free in the dance floor. Designed with beautiful draping and a pleasing silhouette, this simple yet elegant style ensures the wearer will steal the show.