Plus Size Wedding Dresses
Brides-to-be will love our selection of stunning and finely-crafted plus size wedding dresses with an affordable price. From classic long lace white gowns to modern sexy backless styles, Ever Pretty's plus size gowns feature curve-hugging silhouettes and straight-from-the-runway trends. You'll find a plus size wedding dress that flatters your shapely figure while highlighting your favorite assets easily. Feel confident and beautiful in Ever Pretty's plus size wedding dresses on your magical big day!
Read More >
FAQs About Plus Size Wedding Dresses
What Style Wedding Dress Looks Best on Plus Size on Ever Pretty?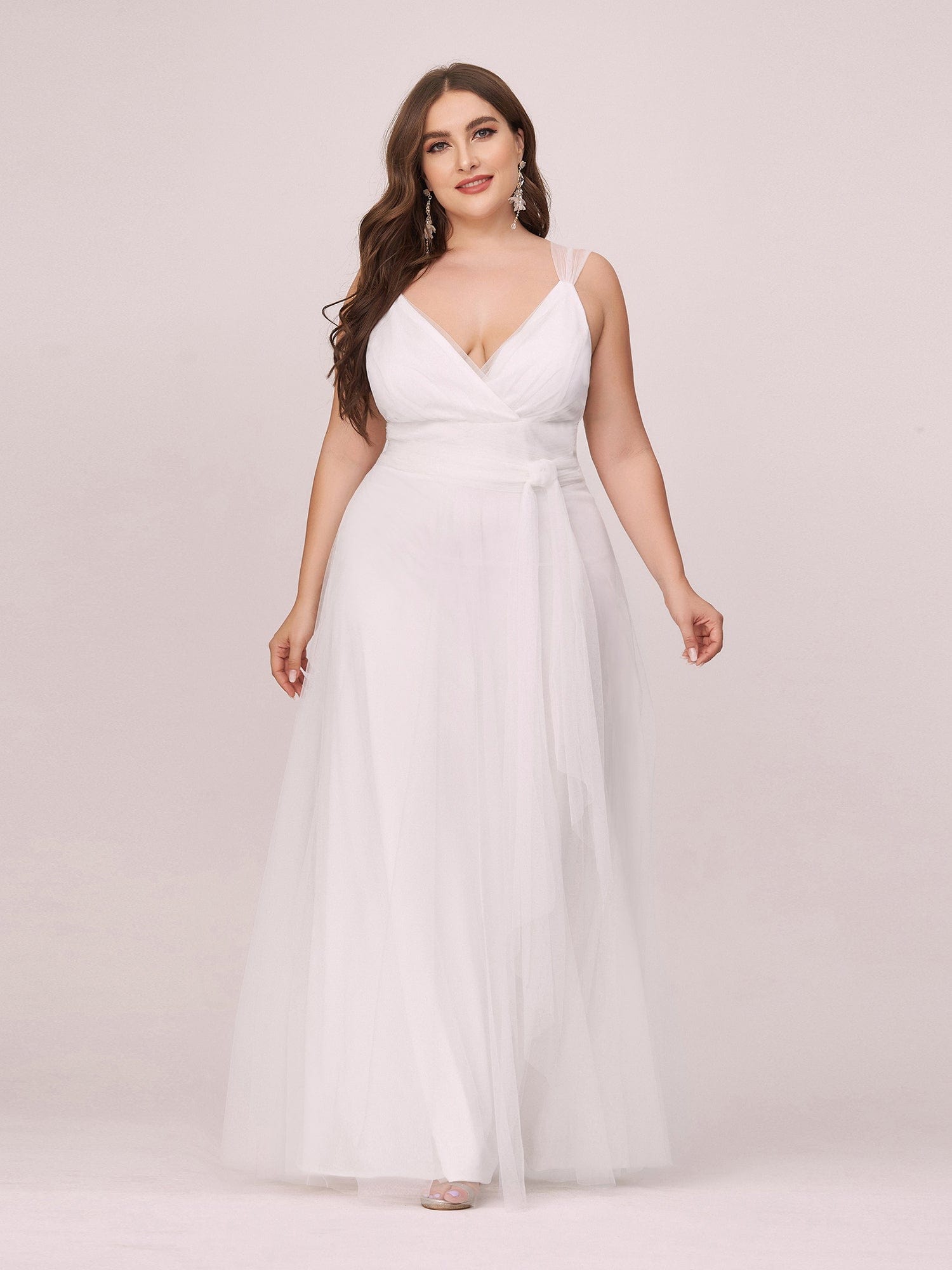 What Are the Most Flattering Wedding Dresses for Plus Size 2023 on Ever Pretty?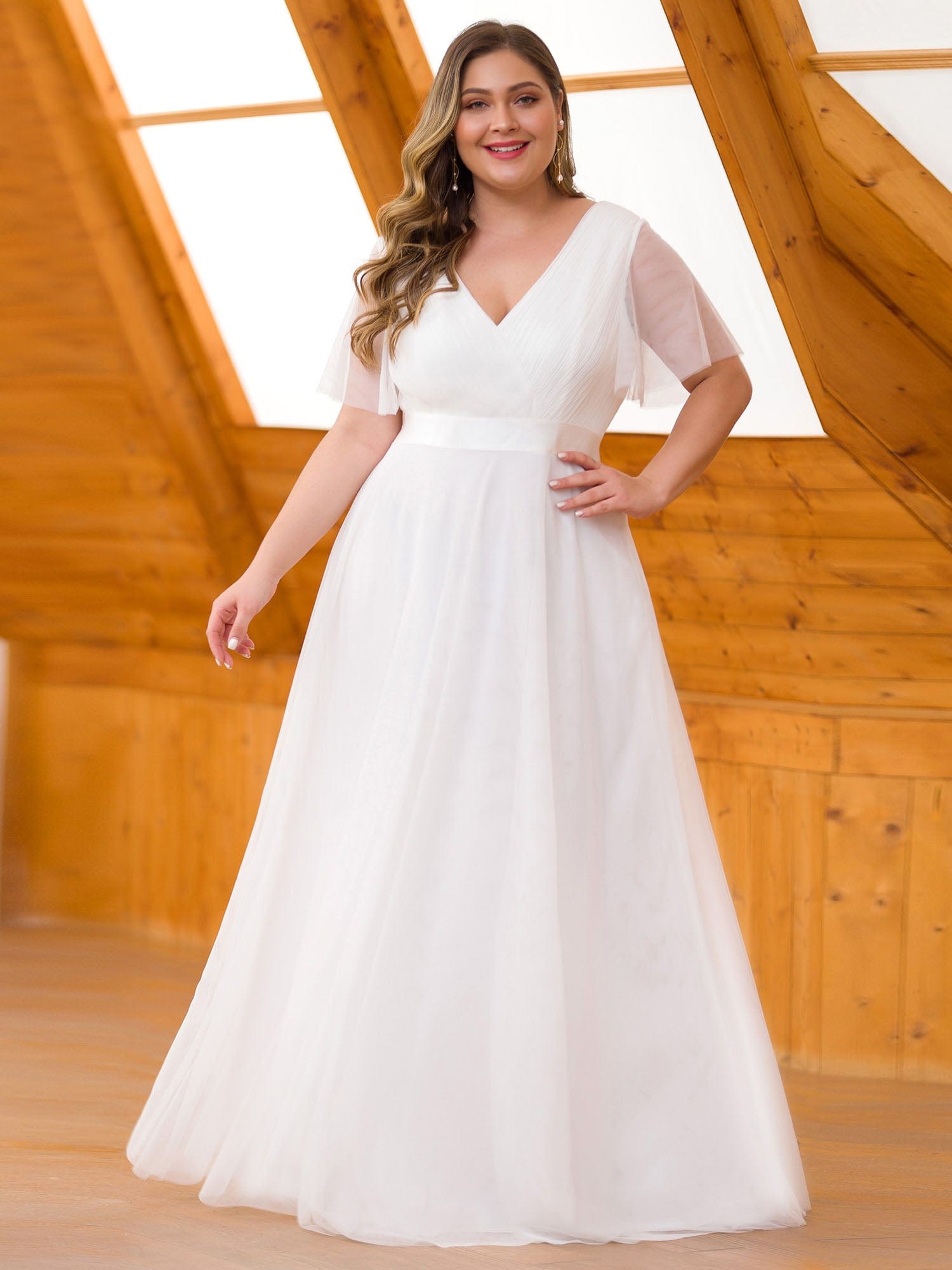 More Tips About Plus Size Wedding Dresses
When should I start wedding dress shopping?
Once the date and location is established, it's time to do wedding dress shopping. Generally, the dress should be purchased at least 5 or 6 months before the big day to allow plenty of time for fitting and alteration. Custom dresses require longer production time for ordering, so be sure to start the search for dresses early. However, if there is a last-minute need or short timeline, don't worry, check out Ever Pretty expedited delivery for quick shipping.
Will plus size wedding dresses cost more?
Due to extra fabric, beading and lace, some retailers do charge more for plus size wedding dresses. However, Ever Pretty keeps the same price for different sizes. Ever Pretty understands what a plus size bride needs and desires, and offers a wide range of sizes(size 4 to 26).
What are the most flattering style for plus size brides?
When it comes to choosing the most flattering wedding dress, you need to keep your body type in mind. Picking out the dresses according to your body shape is extremely important. A mermaid dress accentuates the bust and hip, which looks great on brides with an hourglass body shape. If you are a bride with a pear body shape, an A-line dress clinching at the waist will look absolutely perfect. Of course, you're encouraged to experiment with different silhouettes that you love to find the best comfortable and confident style to celebrate your special day.
Where to shop for plus size wedding dresses?
Ever Pretty has been a go-to online store for stylish and on-trend wedding dresses. The "Wedding Dresses" collection has many affordable and high-quality wedding dresses for you. Most wedding dresses are priced under $100. Whether you need an off-shoulder dress for a backyard wedding, a delicately lace-embroidered dress for a church wedding, or a simple strapless dress for eloping, Ever Pretty has something for you. You're sure to find the dream dress you love here.
How to find a plus size wedding dress store near me?
Using a locator and input keyword "plus size wedding dress store", you can quickly get a list of stores that are near you. If there's is not a shop nearby, online shopping is always a wonderful way. To name just a few, David's Bridal, Torrid and Ever Pretty are great retailers offering beautiful plus size wedding dresses.