How to Find the Perfect Homecoming Dress - Updated 2023
Hey there, fashion-savvy darlings! Are you ready to shine brighter than the stars at this year's homecoming? If you're on a quest to find that perfect dress that will have all eyes on you, then you've come to the right place. Get ready to steal the spotlight as we dive into the ultimate guide on how to find the perfect homecoming dress. From unlocking the secrets of your body type to exploring fabrics, lengths, cuts, and more, Ever Pretty homecoming dresses collections about to embark on a fashion adventure like no other. So, buckle up and let's get started on your journey to homecoming glam!
Content Outlines
Homecoming Dresses for Different Body Shapes
Trending Styles for Homecoming Dresses
Accessorizing Your Homecoming Dress
Homecoming Dresses for Different Body Shapes
When it comes to homecoming dresses, it's important to choose a style that flatters your unique body shape. Understanding your body shape and the most flattering dress styles for each shape will help you look and feel your best on this special occasion. Let's explore some of the common body shapes and the homecoming dress styles that complement them:
Hourglass Shape
If you have an hourglass figure, characterized by a well-defined waist and balanced hips and bust, you're lucky because almost any dress style will look fabulous on you. To accentuate your curves, opt for fitted dresses that hug your body in all the right places.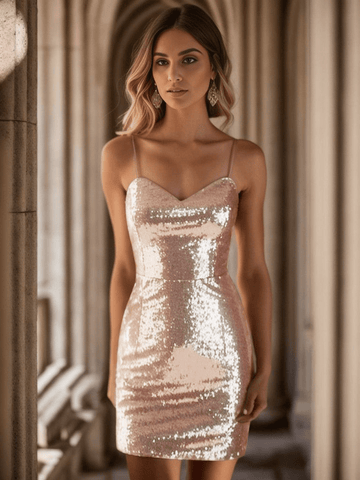 Apple Shape
Apple-shaped figures typically have a fuller midsection, with a broader torso and slimmer legs. The key to dressing an apple shape is to create a balanced look by highlighting your best features. Empire waist dresses, which cinch just below the bustline and flow outwards, are great for drawing attention to your bust and legs while camouflaging the midsection. A-lines or babydoll dresses can also flatter your figure by skimming over the tummy area.
Pear Shape
Pear-shaped bodies have narrower shoulders and waist compared to wider hips and thighs. The goal for pear shapes is to balance the proportions by drawing attention upwards. A-line dresses work wonders for pear-shaped figures as they flare out from the natural waistline, minimizing the hip area. Look for dresses that have details like ruffles, patterns, or embellishments on the upper half to add volume to your upper body and draw attention away from the hips.
Petite Shape
If you have a petite frame, it's important to choose a dress style that elongates your silhouette and doesn't overwhelm your figure. Avoid dresses with excessive embellishments, overwhelming patterns, or voluminous skirts that can overpower your frame. A short or knee-length dress can create the illusion of longer legs, while a sheath or bodycon dress can showcase your petite figure beautifully. Opt for vertical patterns, v-necklines, and high heels to create the illusion of height.
Trending Styles for Homecoming Dresses
Short and Sparkly
Make a dazzling statement at homecoming with a short, sparkly dress that will catch the light and turn heads as you dance the night away. Whether you opt for sequins, glitter, or metallic embellishments, a short sparkly dress adds a touch of glamour and fun to your ensemble. Choose a fitted silhouette to show off your figure for a playful and sexy look. Pair it with strappy heels and minimal accessories to let the dress shine as the centerpiece of your outfit.
Off-the-Shoulder Elegance
Show off your shoulders with off-the-shoulder homecoming dresses that exude elegance and sophistication. This timeless style adds a romantic and feminine touch to your look while highlighting your collarbones and neck. Whether it's a classic sweetheart neckline or a modern asymmetrical design, off-the-shoulder dresses are a popular choice for homecoming.
Enchanting Lace
Lace never goes out of style, and it's no different for homecoming dresses. Choose a delicate lace dress adorned with intricate patterns and details for a romantic and ethereal look. From fitted mermaid silhouettes to flowy bohemian styles, lace dresses offer versatility and elegance that are perfect for a memorable homecoming night.
Accessorizing Your Homecoming Dress
No outfit is complete without the perfect accessories, and when it comes to your homecoming dress, the right accessories can take your look to the next level of style and sophistication. In this section, we will dive into the world of accessorizing your homecoming dress, offering tips and ideas to help you achieve a flawless and cohesive ensemble.
Statement Jewelry: Add a touch of glamour and sparkle to your homecoming dress with statement jewelry. Depending on the style and neckline of your dress, consider bold chandelier earrings, a dazzling statement necklace, or chunky gemstone bracelets to elevate your look. Balance the look by choosing one standout piece and keeping the rest of your jewelry minimal.
Shoes and Clutch: Your choice of shoes and clutch can make a significant impact on your overall look. Coordinate your shoes with the style and color of your dress. Opt for strappy heels or pumps for a classic and elegant look, or go for metallic or embellished options for a more glamorous touch. Match your clutch to your shoes or choose one in a complementary color to complete the ensemble.
Hair Accessories: Enhance your hairstyle and add a touch of elegance with the right hair accessories. Consider delicate hairpins, jeweled hair combs, or floral accents that match the colors in your dress. Whether you prefer a sleek updo, loose waves, or a braided style, the right hair accessory can add that perfect finishing touch to your overall look.
Nails and Makeup: Don't forget to coordinate your nail color and makeup with your homecoming dress. Choose a nail polish color that either matches or complements the colors in your dress, and select makeup shades that enhance your features and complement your overall look. Consider your dress's style and color when deciding on your beauty choices.
As you embark on the journey to find the perfect homecoming dress, remember that the spotlight is yours for the taking. With Ever Pretty by your side, you can be confident in selecting a dress that combines style, elegance, and quality. Their vast collection of homecoming dresses caters to all body types and embraces the latest trends, ensuring you'll find the dress that makes you feel like a true star. By considering your body shape, exploring trending styles like short sparkly dresses, off-the-shoulder elegance, or enchanting lace, and keeping Ever Pretty's fabulous options in mind, you'll be well on your way to stealing the spotlight at homecoming. So, let your beauty shine, embrace your unique flair, and get ready to make a grand entrance with Ever Pretty's perfect homecoming dress. Remember, this is your moment to leave an everlasting impression and create memories that will be cherished for a lifetime.