Fall is the season of weddings and if your social calendar is filled with invitations to weddings in the coming months, you must be very excited. Weddings are a wonderful time to party, eat, drink, and celebrate with friends and family. Receiving a wedding invitation is usually pretty exhilarating. However, once that feeling fade, your next thought is likely to focus on your wardrobe - "What are you going to wear?"
Choosing an outfit to wear to a fall wedding can be a bit tricky. Choosing a plus-size outfit is a whole new challenge. There are several factors to think about such as what colors are suitable for fall weddings. Do you choose jewel tones and stay away from white? What designs should you choose? Should you choose a maxi dress or something shorter? Remember, comfort is key and so is style.
Finding plus-size dresses that look good and make you feel great can be rather daunting, especially when you are shopping for a fall wedding. The good news is that there are many affordable and trendy plus-size dresses that you will say yes to, no matter the venue or theme. Ahead are some tips on what to look for when shopping for plus-size fall wedding guest dresses.
Guest wedding dresses for fall are usually in rich jewel tones, long sleeves and heavier fabrics such as satin and velvet. That being said, it does not mean that you are restricted to these choices only. Fall gives women a chance to choose different necklines too. One-shoulder necklines, puff sleeves, asymmetrical ruffled hems, and high-low hems are dominating this season.  If you want a reliable silhouette that you can wear again to multiple events, you can never go wrong with the classic styles.
Ahead are some of the favorite plus-size wedding guest dresses that will work for any wedding vibe and budget.
A Line Long Sleeved Plus Size Dress
Turn up the heat in this mint green plus-size wedding guest dress that features a V neckline and long cutout sheer lantern sleeves. The A-line skirt flows to floor length and is completed with a front slit. This dress offers pure sophistication and beauty. A great choice for those who want a modest dress.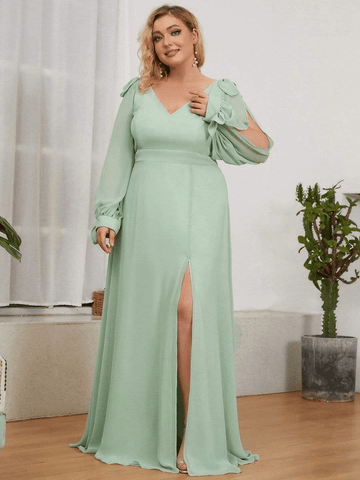 One Shoulder Plus Size Wedding Guest Dress
You will definitely be the best-dressed wedding guest in this gorgeous one-shoulder gown. The classic asymmetrical one shoulder design and ruched fitted bust will make you stand out from the rest.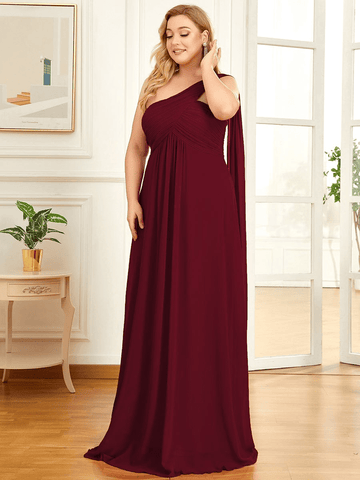 Tulle Plus Size Wedding Guest Dress
This plus size wedding guest dress for fall is a showstopping gown. It has a plunging V neckline and a belt on the waistline. The ruffled sleeves and mermaid silhouette will have you serving pure elegance.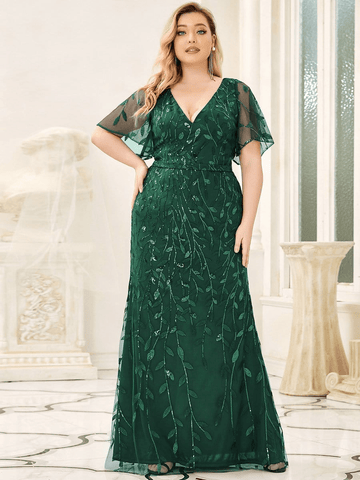 Velvet Plus Size Guest Wedding Dress
Velvet is a popular fabric for weddings in October and November. This floor-sweeping velvet wedding guest dress has romantic draped sleeves, a sweetheart neckline and a fitted bodice. The soft velvety texture adds luxury to this stunning style.