Well, New Year's Eve is almost here and you want to look your best! There are many different ways of celebrating New Year and one of them includes wearing white for New Year.
Several countries like Brazil have a custom of wearing white for the new year which means you can wear your favorite white dress for a night out on NYE, or a party at home with friends.
White is the most dominant color during New Year. So, let's together check out 13 gorgeous looks to choose from if you're looking to match your outfit with your dress code on this special occasion.
13 White Dresses for New Year's Eve
Maxi Lace Elopement Dress with Elegant Ruffle Sleeves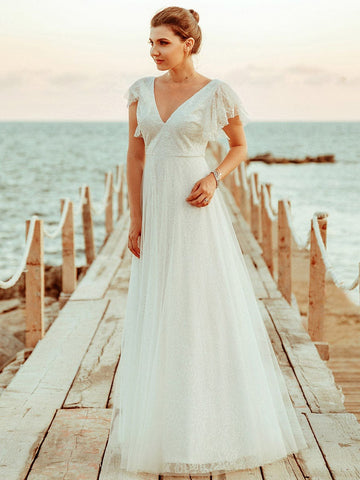 A fancy white dress with a stunningly romantic lace design, this Maxi dress will bring the charm and beauty of an elegant good party at the beach with its flowing gauze layered draped over itself and contrasting ruffle sleeves. The full-length skirt creates a sweetheart neckline and will compliment every girl's best features.
Spaghetti Strap Slit Bodycon Glitter Dress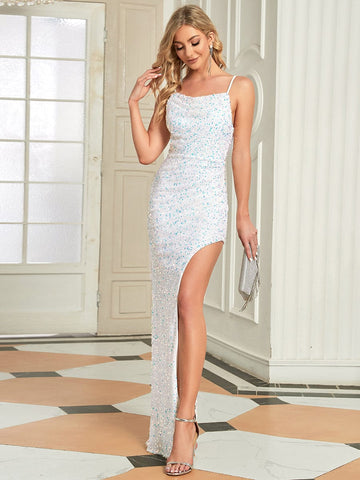 This dazzling floor-length bodycon glitter white dress is perfect for formal occasions like New Year's Eve and holiday galas. The high front slit provides a glimpse of skin without being too revealing, and the spaghetti straps offer just the right amount of support for your arms. The backless fit is both sexy and classy, making this dress perfect for showing off your curves for a formal party at the rooftop.
Off-Shoulder Bodycon Mini White Dress
It's not too late to find the perfect dress for your New Year's Eve party! Lucky for you, this amazing cocktail dress is just what you've been looking for! The plunging neckline will be a surefire way to make a statement at a party. The ruffled off-shoulder top is gorgeous and festive and will complement any woman's figure. 
V-Neck Circle Skirt Evening Dress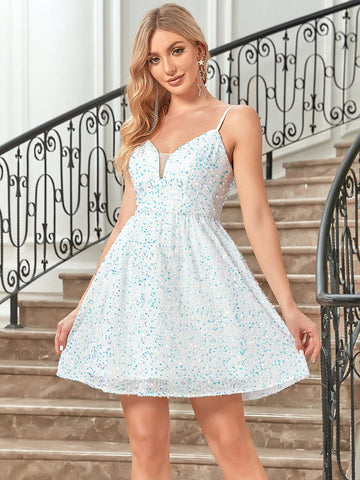 The illusion panel at the neckline adds to the dress's elegance and will frame your décolletage beautifully. The allover sequins create a stunning effect that will make this dress a head-turner at your formal New Year's Eve event. Pair this dress with strappy heels and a clutch for an effortlessly chic style that will never go out of style.
Asymmetrical Hems Bodycon Spaghetti Strap Party Dress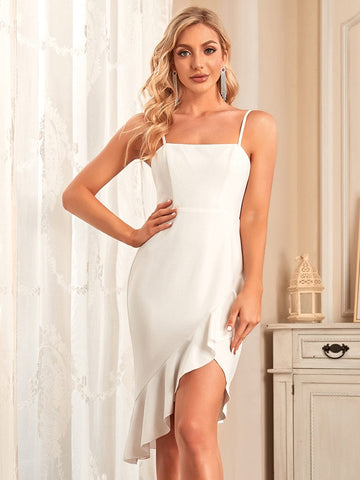 The Asymmetrical Hems Bodycon Spaghetti Strap dress is perfect for a New Year's Eve party at a beach or on a rooftop! The knee-length dress features an asymmetrical ruffled hemline and spaghetti straps. The dress can be customized to the length of your choice and is available in white color too.
Pinstripe Strapless White Mini Dress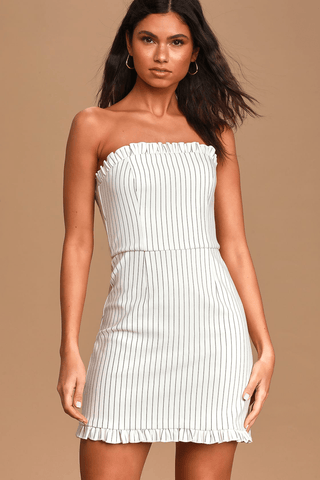 The Little Lovely Pinstripe Mini Dress is the perfect dress for your next special occasion! The classic white and black pinstripe gives it a chic and classy feel, but the ruffle trim at the neckline makes it girly and fun! No-slip strips will help keep you in your dress so that you can dance the night away comfortably. With its A-line skirt, this dress is perfect to wear on your special event!
Westwood Half Sleeve Sheath White Dress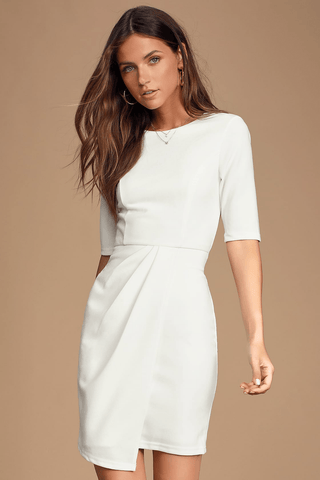 The Westwood Half Sleeve Sheath White Dress is a classic dress with a modern touch! With stretchy knit fabric and crew neckline, this dress is comfortable and chic. The half sleeves and princess-seamed bodice will make the wearer feel confident and beautiful. Pair it with some strappy heels for a night out with the girls or dress it up with some jewelry whatever your heart desires!
Miss Selfridge Blazer with Pearl Embellishment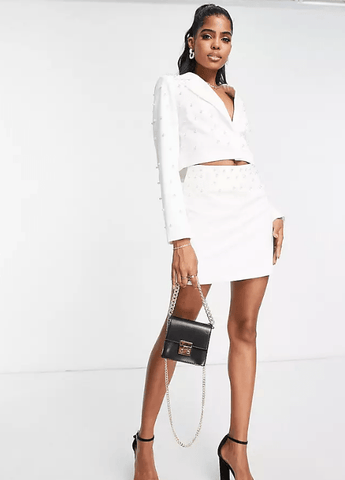 No wardrobe is complete without a pair of white heels to go with this ivory Miss Selfridge blazer skirt. The chic high rise style is a true staple that pairs beautifully with any of your favorite blouses or button downs for a special event. Made of a stretchy fabric with a high waistline, this skirt is a flattering choice for all body types.
Women's Ruched Bodycon Dress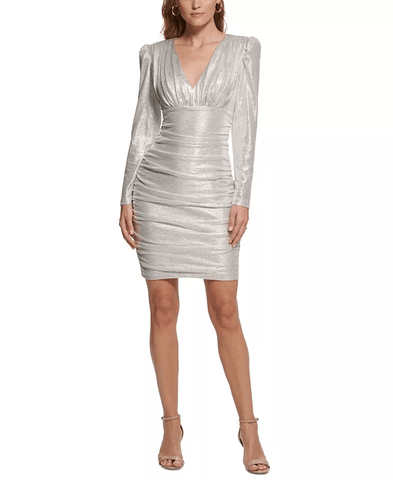 If you're still hunting for a classy dress to wear to your New Year Eve's event, then this dress is just what you need! The sleeveless bodice has a flirty neckline with a fitted top and ruched waist that can be cinched with an included belt for added detail. With its fitted silhouette, this dress is ideal for any body type and is available in white color. Pair this dress with some heels and an evening clutch to complete your ensemble.
High-Slit Sleeveless Gown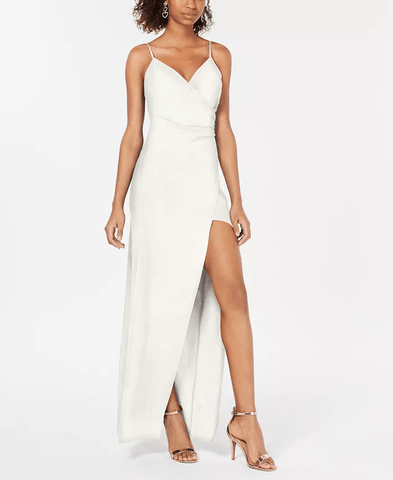 The high-cut leg slit on this Emerald Sundae sleeveless gown gives it a bit of edge for a young woman who wants to add her own personal flair to her New Year Eve's night. The pleated detail and adjustable straps give this elegant design a feminine touch that will flatter any body type and make your dress as unique as the young lady wearing it.
V-Neck Ruffled Sequin Long-Sleeve Dress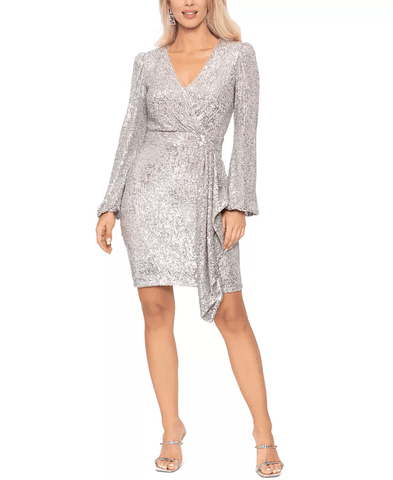 Party season is in full swing this New Year and this little sequin dress will be perfect for your next celebration! Whether it's a holiday party or a formal event, this beautiful white dress features an allover sequin pattern and a flattering v-neckline. The dress also has a ruffled detail at the skirt for a fun touch of style. At the back of the dress is a zipper closure for easy wear.
Champagne Satin Off-Shoulder Midi Dress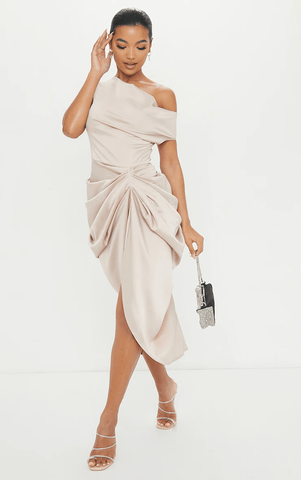 This beautiful champagne satin skirt midi-dress is perfect for a night out with the girls! With an elegant draped style and a classic off-the-shoulder design, this dress is perfect for any occasion and looks stunning. The draped skirt offers some coverage so you can dance the night away worry free! Don't miss out on this timeless dress that will never go out of style!
White Sequin Halter Cowl Knot Midi Dress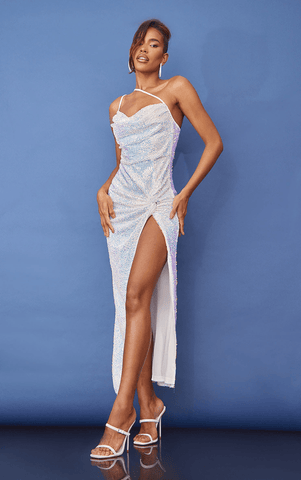 The stylish and sexy cowl knot dress features a white sequin material that is both chic and eye-catching. The halterneck design is perfect for wearing with a jacket or cardigan in the fall and winter months and the knot skirt falls just below the knee to elongate your silhouette. The dress will surely make you stand out at any event!