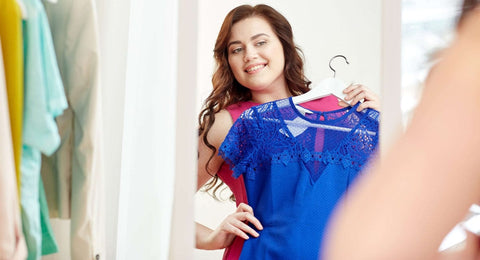 Introductions
The term "plus size" is being used widely in the fashion world. So what is considered plus size? According to the Cambridge Dictionary, plus size means people who are larger than the average size. It is rather confusing trying to figure out what is considered plus size because different people have a different interpretation. Plus size in the US is different from plus size in the UK. Plus size models are usually sized US 12/ UK 14 and above.  When it comes to clothing, plus size range starts from US12/ UK 14 and goes up to a US 30/ UK 28.
How To Measure A Plus Size Body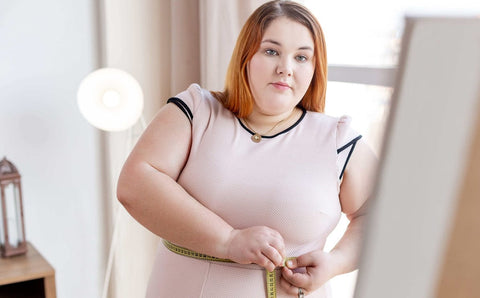 Start with using a measuring tape to measure the bust, waist and hips. It is best to get someone to measure you to ensure the correct measurements are taken. Wrap the tape around the body snugly but not too tight
When measuring the bust, take the measurements from the fullest part of the chest while the arms are relaxed.

For the waist, use the tape measure all the way around the body and level it with the belly button.

To measure the hips, put the tape around the fullest part of the lower body. Be sure to stand with the legs together.

When it comes to measuring the length of the body, start with the front of the neck to the edge of the hem on the skirt.
Tips On Choosing Formal Dresses For Curvy Women
With so many formal dress choices to choose from, finding the perfect one for your body type can be rather overwhelming.  Ahead are some easy fashion tips before adding the dress to your cart.
Occasion - Do bear in mind the occasion this dress is for. Is it for a wedding or a dinner party? You have to choose the dress according to the occasion you will be wearing it to. The most important thing is to choose a formal plus size dress that is comfortable
Know Your Body Shape - Dress styles are usually in straight, empire or A-line. It is important to choose the right cut that fits your body shape. Whether you have an apple shape, hourglass or pear shape body, you will look fabulous with cuts and shapes that complement you. The most flattering dress styles for plus size women are fit and flare dresses, empire waist dresses and A-line dresses. An empire waist dress is one with a waistline that starts just below the breasts. This style will emphasize the upper half of the body and draws attention to the face. A line dresses is a cut that is tight around the torso and flares out gently cross the lower body just like the shape of the alphabet. This dress style will bring out your curves. Fit and flare dresses are also a flattering choice as it helps to give a waist to your body.
Choose The Right Fitting Dress - A dress that is too big will make you appear bigger and sloppy while a dress that is too small will make you look uncomfortable with all the bulges. Therefore, choose a dress that is true to your size and offer the best fit to your body shape. Make sure you follow the size chart carefully and choose the correct size.
Choose a Color - Pick a color that complements your skin tone and showcases your style. Rich and dark colors like black and navy blue are slimming and should be a staple in your closet. Dark colored clothing will slim the appearance and make it smaller. That said, these 2 shades are not the only dark option. Try choosing dark greens, red or gray to add a dash of colors to your wardrobe.
Look For Flattering Fabrics - The last tip for choosing plus size formal dresses is to consider the fabric. Flattering fabric will keep you comfortable and highlight your beautiful curves. Lace offers a charming appeal, while satin gives a smooth and sleek feeling.  It also drapes perfectly and exude pure sophistication. Polyester is a popular choice as this fabric will not crease. Chiffon is another well-known fabric that is favored for many types of plus size dresses because of its comfort and breathability. This sheer fabric has a fluid drape and can bring out the desired body shape.
How Much Does A Plus Size Formal Dress Cost?
An average price of a plus size formal dress is between tens of dollars to hundreds of dollars. As a matter of fact, there are several factors that affect the price such as the fabric selection, how intricate is the style and where you buy the dress. As mentioned above, there are different dress fabrics on the market today and not all materials are created equal. Your selection plays a significant role in your plus size formal dress cost. The amount of embellishments and detailing also affect the cost of the dress. There are many websites that are expensive while some can be very affordable and good quality too. If you know where to look, there are online retailers that offer gorgeous plus size formal dresses that do not cost much.
Where To Buy Formal Plus Size Dresses
There are many online retailers that offer formal plus size dresses and one of the best retailers that has an extensive size option is none other than Ever-Pretty.com. This leading online retailer curates a wide range of high quality plus size dresses for women that will not break the bank. Not only will you be able to find clothes that fit, they have all the styles that let you flaunt your curves. You can definitely find the dress of your dream at Ever-Pretty.com. 
Trending Formal Plus Size Dresses
Get ready for your next special occasions with these dazzling collection from Ever-Pretty.com. 
Pleated Lace Bodycon Plus Size Formal Dress
Lace is classy and elegant and classy. This burgundy lace plus size floor length dress will accentuate your curves more.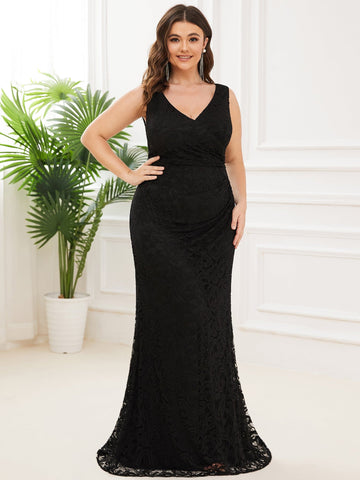 V Neck Mermaid Sequin Plus Size Formal Dress
Yes, there are sequin dresses for curvy women too so why not choose one and wear it for special occasions?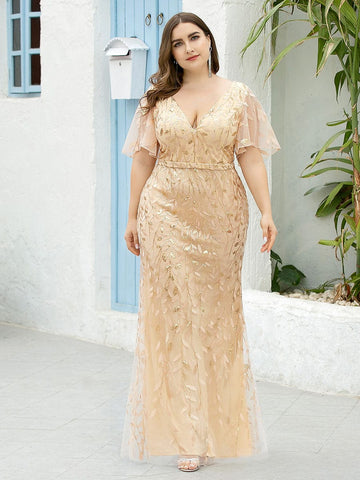 Bodycon Velvet High Low Formal Dress
If you are conscious of your arms, opt for long sleeved plus size formal dress like this gorgeous velvet dress below. You can still show off your curves in this number.