There are a handful of events that require as much glamming up as a black-tie wedding. If you receive a fancy wedding invitation, you already know that a black-tie affair is coming up and this only mean one thing - It is time to dress up to the nines. Finding the perfect dress for every type of wedding is anything but easy. You may feel a little intimidated if you are unsure what the dress code entails. However, it can be pretty fun to get the chance to dress up.
What Is A Black Tie Wedding?
A black-tie wedding is a formal event that requires the guests to dress in sophisticated formal evening wear such as full-length ball gowns and heels for the women and tuxedos and patent leather shoes for the men. Although evening gowns are a standard for black-tie weddings, you can still choose to wear a formal cocktail dress that has a longer hemline or even an elegant suit. As for the gowns, they can be in any type of silhouette, whether trumpet, or ball gown, or if prefer something simple, you can opt for a sheath dress. No matter what style you choose, it is important to ensure that the dress hem grazes the ground and you can walk in it comfortably.
Ahead are some of the FAQs on what is suitable and what is not for a black-tie wedding.
What Can You Wear To A Black Tie Wedding?
For men, a black tie dress code means donning a tuxedo with a shirt, bow tie, and a pair of polished shoes. For women, a long black-tie wedding guest dress that goes all the way to the floor, a pair of dressy heels, or closed-toe pumps is appropriate. If you choose to wear something that does not reach the floor, a dress that is a little below the knee is an appropriate length. Pick a dress that comes in a beautiful rich hue and luxurious fabric. Dresses with gorgeous textures work beautifully for black-tie weddings. Shimmery sequins, rich velvets, and embossed material look luxe.  Slinky silk or satin dresses are just as appropriate. These stunning dresses come in chic black gowns to sexy champagne slip dresses.
Are Short Dresses Appropriate For A Black Tie Wedding?
As a guest, you cannot go wrong in a long formal dress but a fancy cocktail-length dress will work too. Make sure that the dress feels elevated enough and that the hemline hits the mid-calf or below.
Colors That Are Appropriate for A Black-Tie Wedding
You can wear any color except white or anything close to white as that is the best reserve for the bride. Apart from that, you may also want to avoid the color of the bridesmaid dresses as you may end up looking like one of them. Black is always a safe bet for formal attire as a floor-length black gown or little black dress is elegant and classy. If you want to stand out, there are several options like navy or midnight blue. Jewel tones are great options especially for fall or winter celebrations while pastel hues are fitting choices for summer weddings.
Outfit Ideas For Black Tie Weddings
Black tie weddings are one of the fanciest occasions that anyone can have and attending one is a perfect time to bring out the glitz and glam. Whatever your style may be, there is a black tie dress that is available to suit every style and budget.
Long-Sleeved Sequin Evening Dress
Invest in a dress that you will wear again and again like this elegant long-sleeved dress that gleams with mesmerizing elegance. The bodice features a round neck and is ornate with sequins. A thin waistband embraces the natural waist while the pleated skirt flutters into a full-length finish. Exude glam and glitz in this sequin ensemble.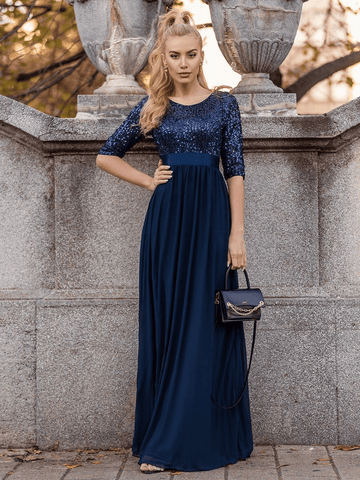 V Neck Ruffle Sleeves Dress
A black-tie wedding is perfect for gowns in rich textured fabrics with a hint of sparkle. 
Capture a striking presence and get everyone's attention in this shimmery maxi dress ensemble. Detailed with shimmery leaves accents all over the ensemble, this beautiful stunner features a deep V-neckline with ruffled short sleeves. Tailored in a form-fitting bodice, this gown offers a flowy pleated A-line skirt that gives a romantic vibe.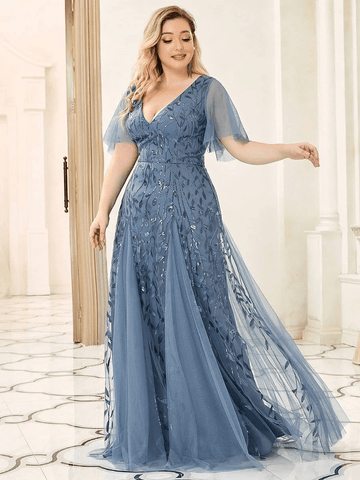 One Shoulder Long Evening Dress
Charm in a sleeveless, asymmetrical neckline and a sheer fabric draping at the one-shoulder dress. This ethereal elegant and simple dress features a fitted ruched bodice and the skirt flourishes a full-length sheath style. Turn heads instantly when you wear this dress.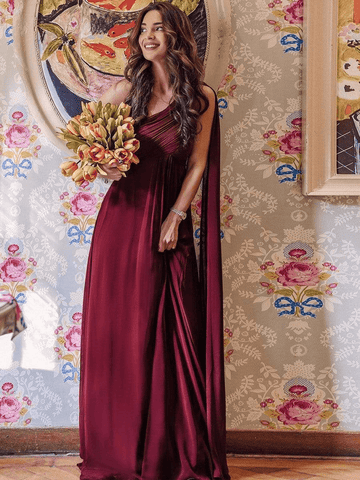 Puff Sleeve Evening Dress
While many gravitate towards black for a black-tie wedding, why not opt for the hue of the season? Emerald green is one of the hottest colors for weddings, thanks to its deep jewel tone. It is sophisticated, elegant, and appropriate for any season.  This gorgeous dress features a deep V wrap design neckline, runching on the waist and flattering puff sleeves. This figure-flattering dress parades a floor length A line with a thigh-high slit.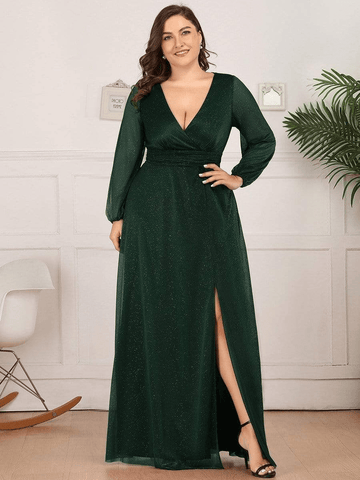 V Neck Velvet Formal Dress
Enhance your appeal in this luxe dress. This brick-red-velvet dress features short ruffled sleeves and a deep V-neckline. It is the perfect choice for a wedding in Fall or Winter. Make it your moment to stand out wearing this velvet number that will show off your timeless elegance.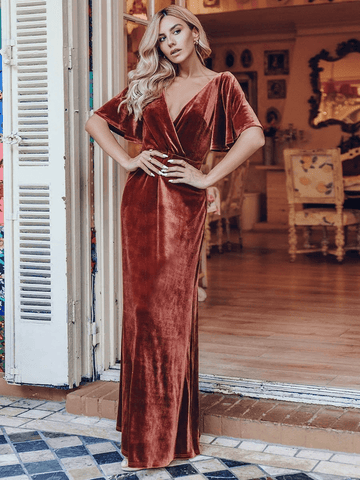 Spaghetti Strap Cold Shoulder Formal Dress
Not a fan of loud prints or designs? If so, there is absolutely nothing wrong with opting for simplicity. You may want to consider a more elegant take on the classic little black dress like this number. This floor-length gown features a deep V-neckline with off-shoulder ruched draped sleeves and spaghetti straps. Gliding the contour of this sheath silhouette is the sculpted line that forms the fitted bodice to the hips and the skirt with thigh-high slit finishes at the floor-length hem.