After two years of lockdown and our social lives restricted, our calendars are filling up with dinner dates, business dinners, parties and not to mention showers and weddings to attend. Everyone loves getting ready for a special occasion and besides getting the hair and nails done, and choosing the right shoes and handbag, the most important thing is to pick out a dress.  No matter what the special occasion is, the first thought that often comes to mind without fail is "what will I wear?!" Without a doubt, the more special a special occasion is, the more pressure you will have to look perfect from head to toe.
Styling Tips For Plus Size Women
Who wouldn't want a body-flattering outfit that she can slip into confidently, knowing that her assets will be enhanced and the areas she loves less will be played down? Finding clothes that match your style and flatter your figure is a quite challenge for most women, and more so if you are a woman with curves. That can make clothes shopping quite a struggle. Well, don't worry because ahead are some styling tips and also the type of dresses that will flatter plus-size women
The Right Fit - When looking for dresses, it is important to strike the perfect balance between fit and too tight. If dresses are too tight, they will pull at the seams and this will make the undergarment lines visible and a VSL is a big fashion faux pas. Your clothes should drape over your body effortlessly and comfortably.
Body Type - When selecting the best plus-size dresses, you may want to consider whether you have a pear-shaped body, an apple-shaped body, or an hourglass body. No two plus-size women are alike. It is best to look for shapes that nip the waist and glide over the midsection and hips for a sleek silhouette.
Accessorize -Small jewelry or handbags can outshine the curves and this will also make a plus-size woman's body appear larger than it is. No matter if it is daytime or night, do make sure that your bag is large enough. Opt for larger statement earrings or necklaces that offer a great opportunity to show off your own personal style.
Get A Shapewear - This undergarment is an essential item in every woman's closet. We all have that moment where we want to look smoother and more supported. Shapewear can do just that. These shaping garments are an easy way to define and enhance curves.
Pick The Right Neckline - Choosing the right neckline for your dress can change your silhouette. Low or deep necklines are more flattering as they help to elongate the neck and draw the eye upward.
Find A Silhouette That Flatters - Dresses come in many different silhouettes so find one that fits your body shape.  A dress that highlights the waist and creates a flattering shape is a good option. Formal events such as weddings or dinner parties call for floor-length dresses that are embellished with sequins, lace and another adornment.
Color - Choose a color that makes you feel confident. Dark colors such as black and navy are slimming while jewel tones like emerald green or burgundy red will make you stand out from the crowd.
What Type Of Plus Size Dresses For Special Occasions That Curvy Women Should Buy?
Below are the most common dress silhouette types that can help you to determine which one suits your frame and curves. These plus size dresses for special occasions under $100 are available at Ever-Pretty, a leading global online retail store that offers the ultimate wardrobe solutions with their figure-flattering and trendy dresses designed with women in mind.
Never wonder what you would need to wear to that important event again because at Ever-Pretty, you will find an array of gorgeous, plus-size special occasion dresses that are designed to fit, flatter, and appeal to a variety of shapes, sizes, and preferences. Ranging from 4 to 26, you will definitely be able to find a dress you like.
A Line Dresses
The A-line dress has a fitted top and torso, and creates the impression of an hourglass shape. It flares out at the waist in a triangular shape, just like the alphabet A. This dress style is flattering for women of all body shapes, particularly plus size women.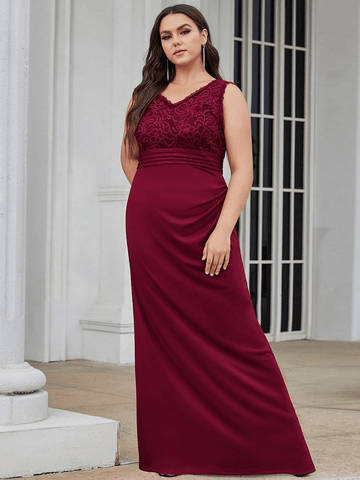 Fit and Flare Dresses 
The fit-and-flare dress usually features a fitted bodice and flares out from the waist to the hem of the skirt. This style is ideal for women with curvy figures. Similar to A-line dresses, the fit and flare dress is designed to draw attention to the waist, which is the smallest part of the body. It has a fuller skirt that is more forgiving in the hip area. The fit and flare silhouette is one of the most flattering dresses for curvy women.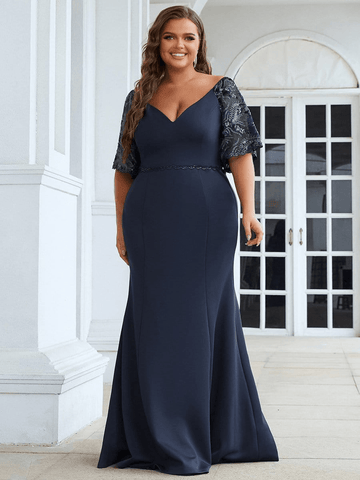 Sheath Dresses
Sheath dresses are designed to fit close to the body and are usually at the knees or just above the knees for the shorter version or a maxi style. It is a stylish and elegant option that is both appropriate for work or special occasions. Sheath dresses are great for women with shoulders that are the same width or wider than the waists such as rectangle or apple shapes. For those who are looking for dresses that hide the tummy, sheath silhouettes are the perfect choice.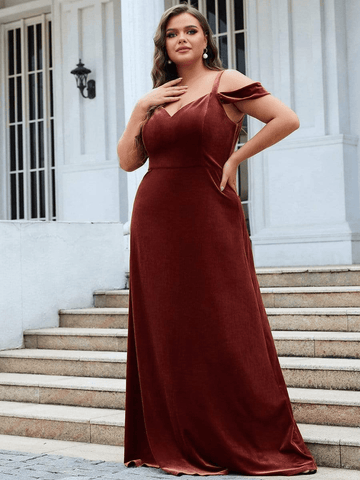 Form Fitting Dresses
Although form-fitting or body-hugging silhouettes are narrow and fit snugly, they are a great choice for curvy women.  They hug your curves and are usually stretchable, making them very comfortable to wear.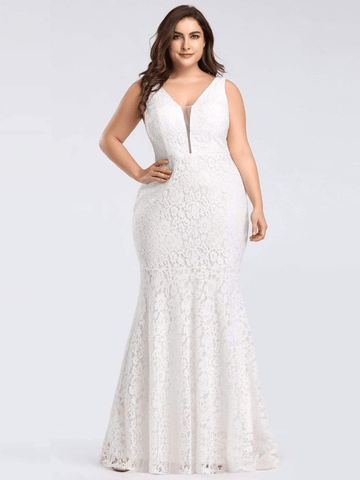 Empire Dresses
Empire dresses gather just below the bust instead of at the waist. This will emphasize the upper body rather instead of the lower body. This dress style is suitable for women with apple shape, strawberry shape and rectangle body types.