There are a lot of ways to style a red outfit for Christmas. You can either go all-in with festive colors, use them as an accent, or dress them down with a black or gray turtleneck sweater and jeans. However, red is definitely one of favorite colors this season, so here is the ultimate guide on how to wear a red outfit for Christmas 2022 (and beyond).
Trendy Tips To Style Your Christmas Outfit
Red is a very powerful color, and you can use it to your advantage when you style your outfits for this Christmas. However, if you do, there are a few ways to make it work. Let's check them out:
Red is a very striking color that creates an instant impact on the eye. It's best used sparingly so that the other colors in your outfit aren't overshadowed by its brightness. If you're not used to wearing bold colors, add golden jewelry to your outfit and try incorporating other shades into your collection before trying it out.
Go For a Classic Look with a Red and Black Combination
If you're looking for a more classic look, go for red and black. The combination of both colors is classic, elegant and sophisticated. It can be worn with anything from a simple black dress to a tuxedo jacket to an all-black outfit (think a velvet blazer and trousers).
Add a Dash of Red with Shoes or Accessories 
For a more subtle way to add some red to your outfit, consider adding a pop of color with accessories instead. Red shoes or a red bag can be a great way to add a pop of color without breaking the bank. Consider using golden accessories with your red outfit, it gives you a unique and stylish look.
Red Outfits for Christmas 2023
If you want to wear red at Christmas, go for it! Red is a festive color, and it's great for winter. It's also an elegant choice when wearing an outfit or dress that has a bit of lace or silk in it. Check out these seven stores that have some great red outfit collections for Christmas 2023.
Maxi Long Lace Cap Sleeve Dress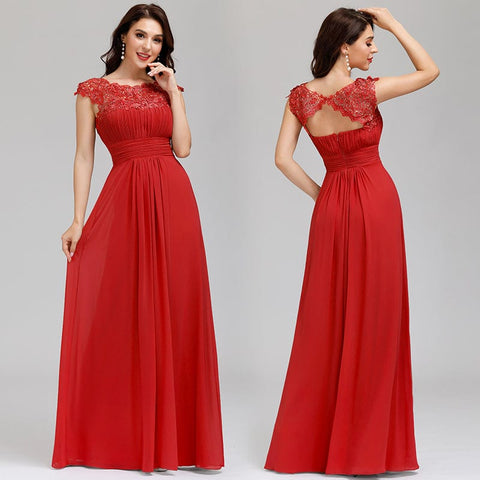 Adorn yourself with the beauty of elegance and charm in this beautiful red dress. This elegant dress features a cap sleeve, decorated neckline and gathers for a graceful look. It is well suited for festive events, weddings, gatherings, and more. Make a style statement this Christmas with this gorgeous Maxi dress available at Ever-Pretty.
    2. Sleeveless V-Neck High Slit Evening Dress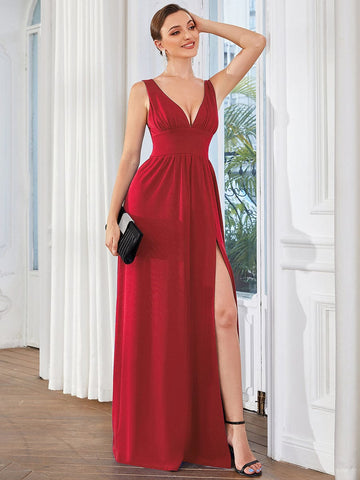 This daring V-neckline Front Slit Full-Size Dress features a plunging v-neckline, a sleeveless top and empire waist. The dress's high slit adds even more elegance to this sexy style. This floor-length dress will look great with a pair of heels, or you can wear it with flats. Yet another dazzling dress with empire waist looks very stylish especially on special occasion like Christmas.
   3. Elegant V-Neck Burgundy Shiny Dot Dress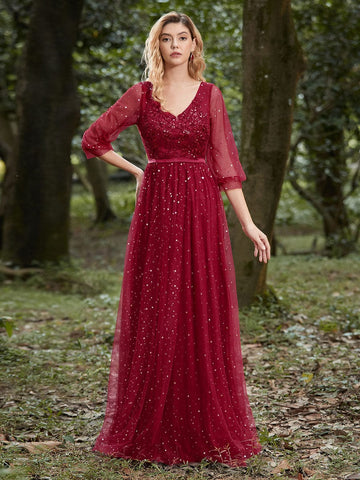 The elegant Maxi V Neck Burgundy Dress with shiny dots is a glamorous piece for the woman who wants to shine this Christmas. Featuring a double V-neck, this dress has an A-line silhouette that is perfect for showing off your curves.
   4. Pleated Wide Leg Jumpsuit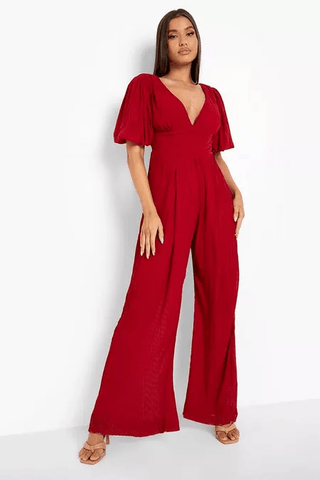 The Pleated Wide Leg Jumpsuit features a wide leg silhouette, fitted with multiple cuffs and an open back. Made from woven fabric, it features a curve accentuating the natural shape of your body. A perfect jumpsuit to wear on its own or adorn it with stylish accessories and bag.
  5. Pant and Suit Women Blazer Set in Red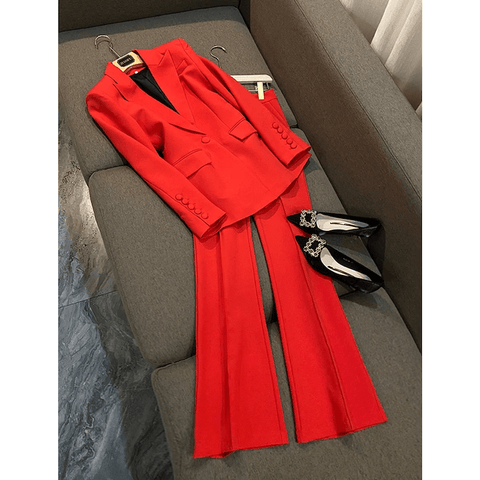 Gorgeous two-piece pant suit is perfect for Christmas parties and events! The suit comes with a red dress and matching flare pants. The dress features a button up front that flows down to the knee length hemline. It also has long sleeves with two outer pockets and has been handmade from high quality cotton polyester fabric. The pantsuit is handmade, hence looks dazzling when worn during Christmas time.
  6. Ruffle Halter Crepe Red Gown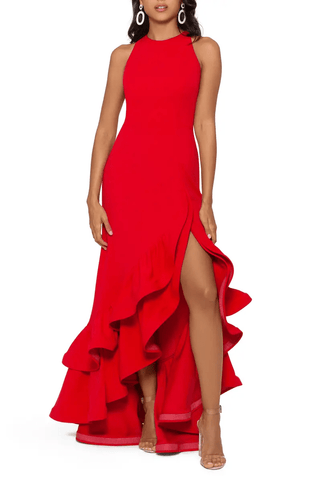 Featuring an exposed back-zip closure and a sleeveless design, this fiery curve-enhancing gown is the perfect choice for a night out on the town. The jewel neckline features ruffle halter detail and a fiery crepe fabric that will ensure your figure remains in the spotlight all night long. With its flattering silhouette and lightweight fabric, this gown is sure to become your go-to for festive occasions.
  7. Faux Wrap Dress by R&M Richards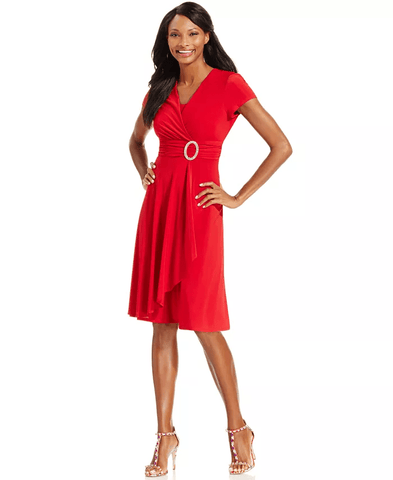 R&M Richards offers a flattering pullover dress with a surplice neckline and short sleeves that look great in any season. The faux wrap silhouette has a ruffled tier at the skirt to give this dress some added texture. The gathered waist is detailed with a jeweled ring for an elegant touch and the lined bodice provides comfortable coverage for any occasion. With its flattering silhouette and versatile style, this dress is perfect for all occasions!
Red is a bold color, but it can also be a fun one. You can play around with this color in many different ways—from bold and bright to subtle and elegant—and it's so much fun! Whether you're shopping for yourself or someone else, these online stores bring ahead some best ideas on how to style your red outfit this Christmas.