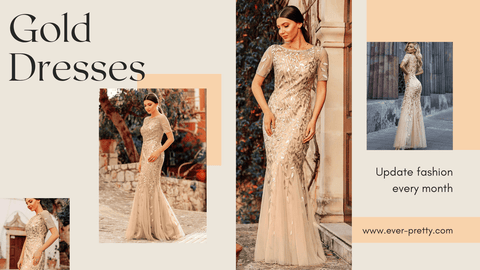 At the fashion runways this year, often spotted are the go-big-or-go-home styles and they are not going away anytime soon. With the end of 2022 just around the corner, coincidentally all things metallic is the latest trend to join the mood-boosting colors. You have probably seen your favorite celebrities being photographed wearing gold dresses on the red carpet or fashion influencers showing up on your social media feeds donning gold dresses. Do these make you dream of wearing a killer gold dress and wondering how you can pull off this dress as well?  Gold is a shade that adds a bright pop of color, luxurious-looking and elegant. Gold dresses are one of the most coveted dress choices for women for obvious reasons. It is a color that suits almost any skin tone and brings out the skin's natural highlights. It is classy, edgy, and sleek. Wearing a gold dress will ensure that you have a golden glow all over and it is one that you want to add to your wardrobe rotation now.
Why Gold Plus Size Dresses Are Appropriate For Weddings?
A gold dress is a great option for weddings. It is a color commonly associated with celebratory events so a gold dress is also one of those wedding hues that work year-round. Also with the party season not too far away, a gold dress can be worn again to all the holiday parties that are coming up. Nothing says festive dressing quite like a little bit of glitz and glamour, right? If you have received invitations to weddings, you may want to include a gold dress in your dress shopping list. Besides celebrating the love of the newlyweds, one of the best parts of attending a wedding is shopping for a new dress to wear.
How To Style A Plus-Size Gold Dress
A gold dress can be a little tricky to style. This is because how you wear a gold dress depends on the different gold tones. There are certain gold fabrics that have a brighter shade with an orange or yellow tinge to them. Other gold shades can be cooler and almost beige-like that border on a silvery shade. Some gold hues are darker as well.  Then there are also pink-toned gold-like rose gold shades. If you want to wear a gold dress during the warmer months, choose a dress that comes in a finer texture. For winter weddings especially around the holidays, you can opt for more dramatic styles that feature larger sequins and embroidered fabrics. 
The key to styling this showstopper shimmering dress is to let it do the talking. When wearing a sparkly gold plus-size dress for a wedding or party, remember not to complicate the look with too many accessories. If you are going to a glitzy event, a pair of simple strappy heels in nude or black and a small accessory like a clutch or small bag is all you need to match the floor-sweeping gown. A pair of statement earrings can add the perfect finishing touch and last but not least, a dazzling smile.
The metallic gold look will definitely make heads turn. Opt for sequins or studs if you really want to make a statement. Alternatively, a simple cream dress featuring gold embellishments will create a softer look. If you choose a darker shade of gold for your dress, you may want also want to soften the look with dainty jewelry or a pair of heels.
for evening wear because they complement the skin tone and create a sophisticated look.
Gold Dresses That Bring On The Ritz And Glitz
Prepare to be gilded in gold and make your special occasion a glamorous event with these fabulous gold dresses from Ever-Pretty. From glimmering metallics to softer hues, there are many gold dresses available for any event, budget, or style. Whether it is a semi-formal celebration or a regal reception, Ever-Pretty has plenty of on-trend styles to choose from. From waist-accentuating wrap dresses with sleeves to body-hugging silhouettes, there are many flattering styles for women of all shapes and sizes. These gorgeous gold gowns from Ever-Pretty are regal and luxurious. They exude sophistication and boast a wow factor.
V Neck Maxi Long Plus Size Gold Dress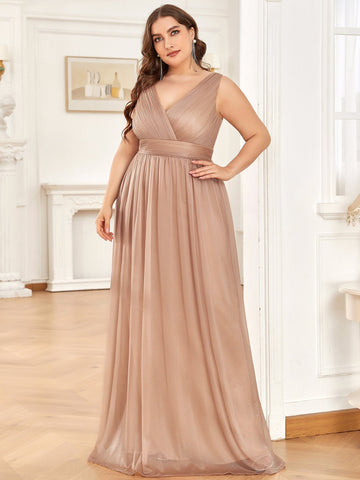 Dazzle everyone in this sparkling breathtaking dress that features a wrap ruching V-neck and a wide waistband. It is cinched on the waist and flows down to floor length in an A-line silhouette. This plus-size gold dress will surely make a statement at any event.
Gold Sequin Plus Size Dress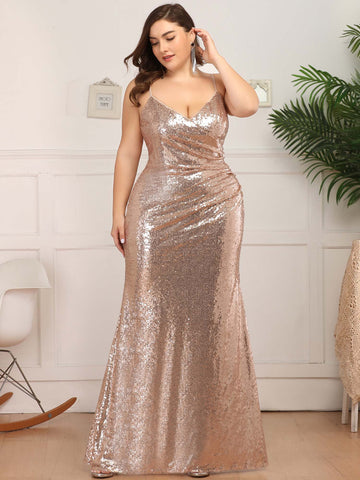 Be bold to flaunt those fabulous curves in this ever-sparkly gown. This plus-size full sequin gown showcases a V-neckline with just the right amount of plunge. Allover sequins adorned this dress and it has a fitted bodice that will accentuate your curves. This figure-flattering backless dress will sure to leave everyone in awe.
Cold Shoulder Gold Sequin Tulle Dress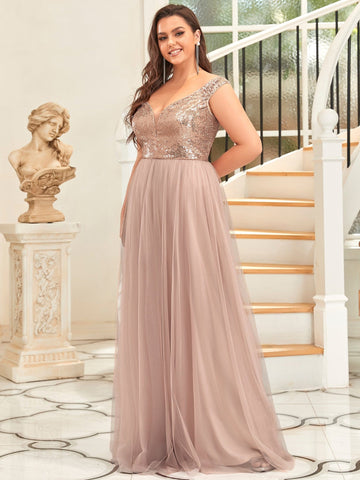 Look like a fairy in this ethereal shimmery long dress that features an illusion sweetheart neckline adorned with delicate sequins on the bodice. It has off-shoulder style draped sleeves and the airy tulle skirt flows in a flattering A-line silhouette at a full-length hem.
Sleeveless High Low Gold Plus Size Formal Dress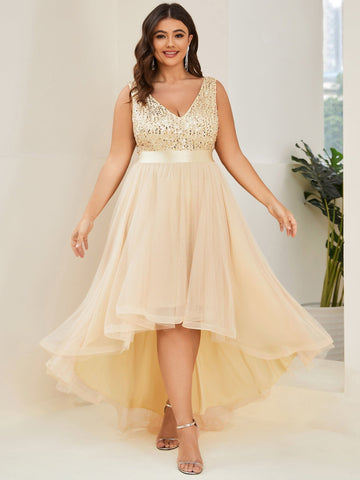 Turn heads instantly when you wear this fun and sophisticated dress. This high-low dress highlights a V-neckline in a sleeveless sparkling sequin bodice. It features a cinched waist with a wide ribbon and gorgeous layers of tulle to finish the look. The asymmetrical hemline allows you to show off your legs and favorite heels.
V-Neck Embroidery Gold Dress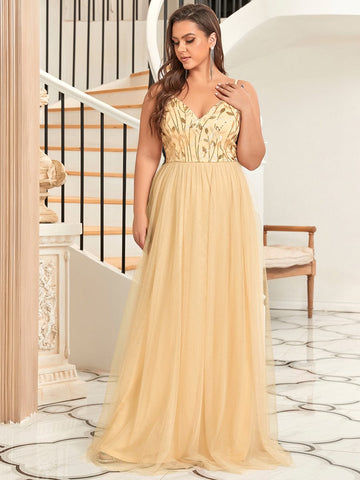 This elegant long dress gives you a feminine look that is fit for any special occasion.  It flaunts a sleeveless V-neckline, a fitted bodice adorned with the shimmery leaf design, and spaghetti strap support. The full-length sheath tulle skirt leads to a floor-sweeping hemline. Leave a lasting impression by wearing an elegant and feminine dress.
Long Sleeve Plus Size Rose Gold Dress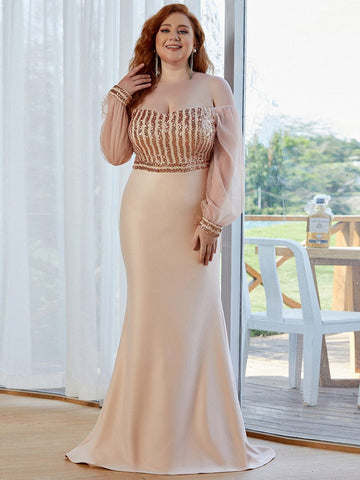 Look lovely in this elegant creation that features a fitted bodice with a sweetheart neckline and billowy long sleeves that is worn off the shoulder. The skirt has a mermaid silhouette that is designed to hug your curves. This plus-size long formal dress is the epitome of luxury.