Your baby's christening will be one of the most memorable days in your life. To ensure that this day goes as smoothly as possible, it's important to have everything you need—including the right outfit to wear to the Church ceremony.
If you're not sure what to wear, here are some 2023 Christening outfit ideas that we can help with so you can look great and feel great on your special day. The ultimate choice is up to you, but the most important thing is that you look your best. Let's check them out now:
What To Consider When Choosing Your Outfit
Festive, subtle and friendly - Baptism happens in the church, thus your outfit should be festive without going over the top. As baptism is considered a happy occasion, you must express it with your clothes.
Consider wearing soft colours like white or pastel shades that look great. But even bolder colours like orange, yellow, apricot and red make a good choice if you are invited as a guest.
Your baptism dress code must be modest and decent, so avoid wearing anything too distracting or revealing. If you're still not sure, you can always look out for some great clothing ideas at the online stores and find the best outfit to wear during this religious ceremony
Baptism Ceremony Outfit Ideas for 2023
When looking to wear the right outfit to a christening, no need to get in a style panic. Whenever in any doubt always go for the smarter and more polished pieces than keeping it casual and laidback. Check out these 7 outfit ideas that you can try and look stylish:
Ribbed Long Sleeve Bodycon Dress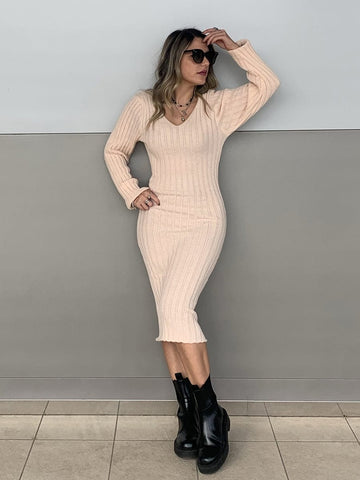 This ribbed long-sleeve bodycon dress is perfect for your little debutant! A layer of satin makes this dress a gorgeous mommy-approved dress with no lace or sequins.
The dress makes a perfect addition to any baptism dress collection! In vibrant colours and featuring ribbed details, this V-neck sweater dress is a one-piece sheath that offers freedom of movement.
Gorgeous V Neck Flowy Dress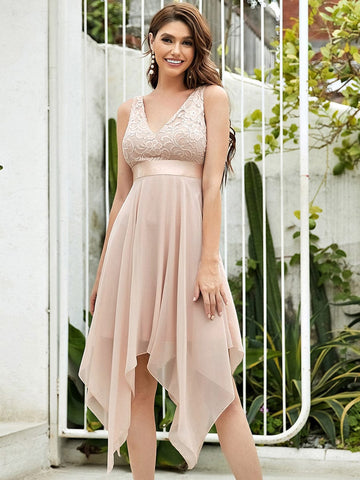 What better way to celebrate a religious event than with a stylish, trendy and comfortable dress? The Ever-Pretty V-neck dress is made with high-quality fabrics that are resistant to wrinkles, stains and rough wear and tear. 
The asymmetrical hemline on the dress gives it a unique look. This dress is great for special moments like baptisms, birthdays and proms. It can also be worn for other occasions like wedding showers and bridal events.
Pleated midi dress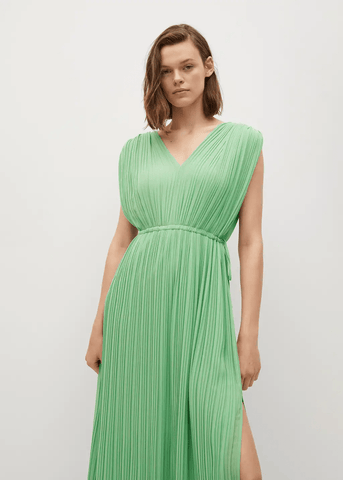 dress from mango
A stylish and elegant dress for the glamorous mother of your daughter's baptism. This pleated midi length pastel green colour skirt and fit make it a flattering dress that looks great from all angles. It may be casual, but it is so comfortable you will keep wearing this dress to dinner parties and special occasions long after your little one have left home.
This dress is a perfect choice for a baptism outfit or bridal gown. The dress is made with a soft but strong fabric, making it ideal for regular wear.
Handmade Mother Daughter Matching Wear
A gorgeous mother-daughter matching outfit will be the perfect finishing touch to your special day. Your daughter will look amazing in this matching open-back lace midi-length dress. The outfit is perfect for any occasion, whether you are attending a baptism, or are just spending time with your family. 
Matching the colour of her gown, the white/beige dress will be elegant and perfect for the special day. With a detailed lace bodice and adorable flower print trim all over, your little angel will feel like she's straight out of a magazine!
Floral White Milkmaid Skater Dress
A floral print mid-length skater dress with a frill at the neckline makes this a very comfortable and beautiful christening dress for any mother to wear on this special occasion.
This dress is super cute and colourful, a good choice for a baptism outfit. The light floral print midi dress is easy to wear, and flattering on all shapes and sizes. This winter make sure this adorable outfit gets plenty of wear!
Cap-Sleeve Midi Dress in Satin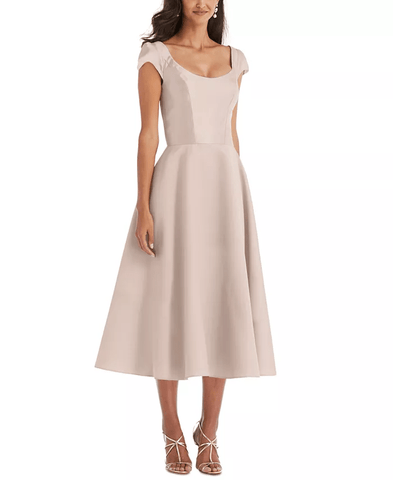 dress from Macys
Alfred Sung's mid-length dress in a satin jersey fabric with a pretty cap-sleeve makes a perfect mother's baptism outfit. This dress is perfect for baptizing a new mother. It is comfortable, classy and stylish.
Make a statement as the fan favourite on your next occasion. This dress features cap sleeve details that look elegant, a satin midi-length that is comfy from all areas, and a beautiful beaded bodice with a hidden zipper at the center back.
Delicate Lace Maxi Wear in Sage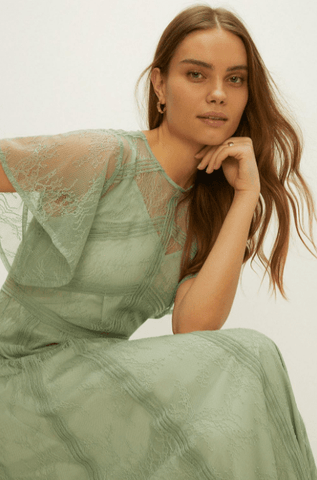 dress from Oasisfashion
You will love this elegant and sophisticated white lace dress for your special day. No doubt, you will look sophisticated and classy, yet warm and soft in this delicate maxi lace dress. You have a choice of three lovely colours, and they are sage, navy, and slate blue.
Featuring a delicate lace neckline and short sleeves, this dress has a wide opening at the back with lace closures. The soft fabric and delicate pattern make it a versatile option for any mother.
If you are looking for a charming, elegant and timeless baptism gown, then these are some of the best choices for you. It comes in various sizes and is currently the most timeless option that can be worn for any special occasion. You can choose from a variety of beautiful colours to fit your child's personality with ease.