Breathtaking 2023 Hairstyle Ideas For Brides
So your wedding day is approaching and you have ticked off all the things on your to-do list like securing the venue, confirming the decorations for the wedding, completing the guest list, invitations printed and choosing all the bridesmaids. Besides all that, the most important thing on your mind is what you are going to look like on your big day. Once you have picked out your wedding dress and the only thing left is to figure out how you want to do your hair. All brides want to look like the absolute best version of themselves. After all the innumerable things, thinking about how you will style the look is up next.
How you choose to wear your hair can completely transform the mood of your look. Ideally, your hairstyle should complement your dress, your personality, and the aesthetic of your wedding. It can be rather daunting to choose the right hairdo but that being said, a bride should always wear what she feels most comfortable with, whether to let her hair down or up. One of the factors that will determine the wedding hairstyle is your bridal gown. If you have an open-back dress, perhaps you may want to wear your hair up to show off the back. If you prefer a more classic look, a sleek bridal updo is great while wearing the hair down with a bit of foliage and loose will give off the boho vibes.
Glam waves, half-up styles, and tousled hairdos seem to be the popular choices for brides this year. Whether it is a swoon-worthy updo or tousled waves, a wedding hairstyle can be created in endless ways. There is a do out there for every wedding dress, bridal style, and wedding theme. Need some inspiration? Scroll ahead to see the top picks for the most romantic wedding hairstyles.
2023 Bridal Hair Trend
Classy Low Bun
This is a simple and classic look that can be achieved by pulling the hair into a low ponytail, twisting it, and securing the bottom with a clear elastic bun. This is perfectly flattering for any face shape. You can also keep it loose, add some accessories or just leave it as it is.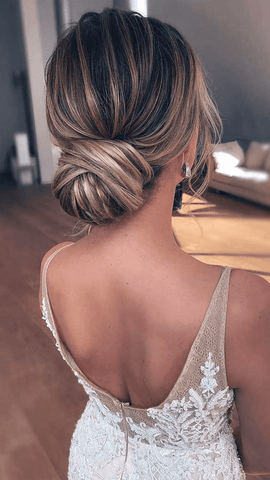 Image - https://www.pinterest.com/pin/652529433518233800/
Tousled Chignon
The tousled chignon is one of the top wedding hair trends this year and it is the perfect style for a bride who wants laid-back and romantic vibes. This hairstyle is also versatile enough with most dress styles. It works best on medium to long hair and can be a great option for brides who have thin hair.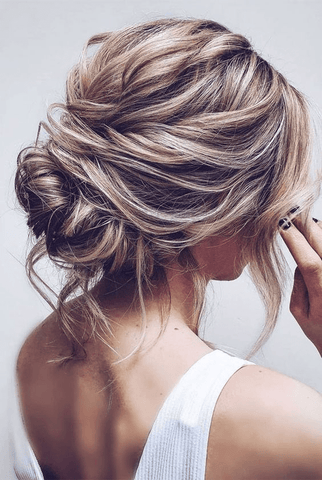 Image - https://www.pinterest.com/pin/5559199533430016/
Half Up Half Down
The half-up, half-down looks are also one of the biggest wedding hair trends in recent years. This hairdo comes in various styles knotted on top, pulled into a thin ponytail, or braided with flowers. However, for 2022, this style will be given a braided treatment and tons of extra volume. More brides are also styling their hair half up with braids in the upper part. The loose hair can be styled in flowing, loose waves for a classic bohemian style. This hairdo offers the best of both worlds as it gives the bride the comfort of having some of her hair down and also framing the face.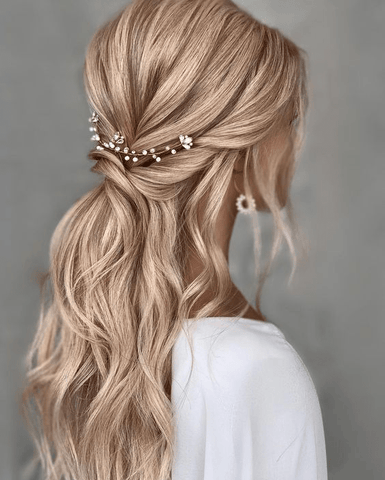 Image - https://www.pinterest.com/pin/2111131069123067/
Bridal Ponytail
Bridal ponytails were trending hard last year and they are definitely not going anywhere. Thanks to their effortlessly chic styling options, bridal ponytails are the perfect do for accessories. No matter if you want to glam up the look with a hair clip, some blooms, or crystal headbands, there is definitely a way these must-have accents would work on this do to elevate the style for your wedding day.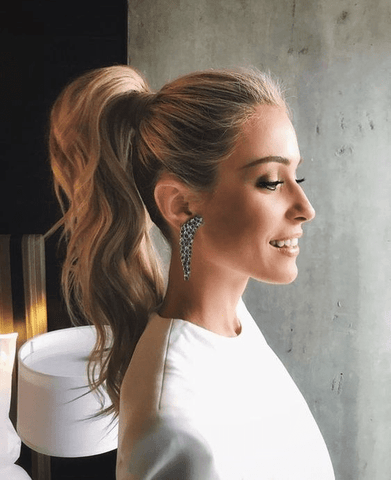 Image - https://www.pinterest.com/pin/221450506749646186/
Hollywood Waves
Hollywood waves are the epitome of classy. It is a look that is the go-to for vintage-inspired brides. Sleek, feminine, and glamorous, it is a look that will definitely make a big impact while giving a timeless feel. Get ready to channel your inner bombshell with this Hollywood-wave wedding hair.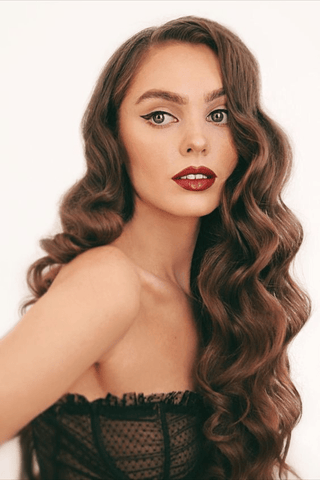 Image - https://www.pinterest.com/pin/2533343533425962/
Low Ponytail
While updos are perfect for showing off a neckline or the back, nothing complements a low back quite like a ponytail that cascades on the back. If your dress has a deep back, this sleek low ponytail will complement it.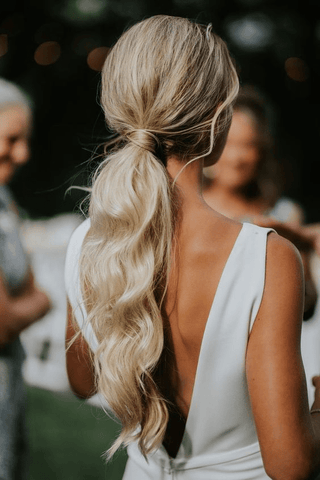 Image - https://www.pinterest.com/pin/829295718897020031/
Volumized Ponytail
For brides with fine, thin hair, go with a hairstyle that pumps up more volume like this high pony that gives natural volume while being stylish at the same time. If you are a fan of volume and elegance, this ponytail is the great one you are going to like.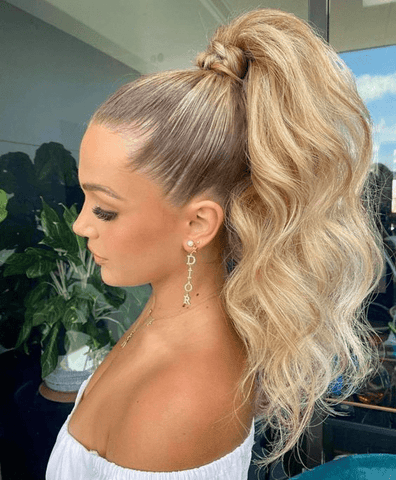 Image - https://www.pinterest.com/pin/338544097001258533/
Soft Curls
To set a simpler style, curling your hair at the ends or midway is a stunning compliment to a beautiful dress while not making it overly dramatic. It's also perfect for women with short or shoulder-length hair - light waves are just what you need for your wedding!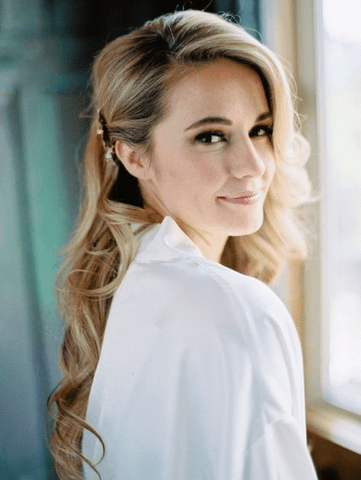 Image - https://www.pinterest.com/pin/327848047886932628/
Updo With Flowers
A little bit of tucking here and there with seasonal flowers or green foliage will give your updo a refreshing departure from the usual style. This hairdo is so whimsical and boho, it gives all the storybook romance feels that are not too formal or traditional.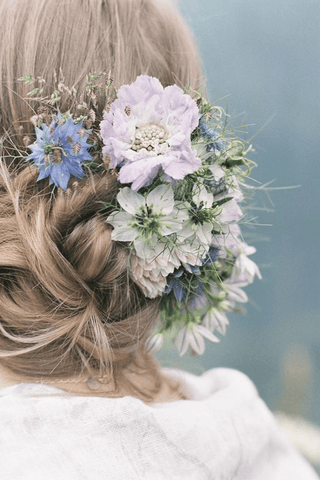 Image - https://www.pinterest.com/pin/474215035734888572/
Milkmaid Braid
The milkmaid braid hairdo has all sorts of the countryside and rustic feels. Adding a stunning jeweled hairpiece or flowers will make this sweet and demure braid instant wedding-worthy.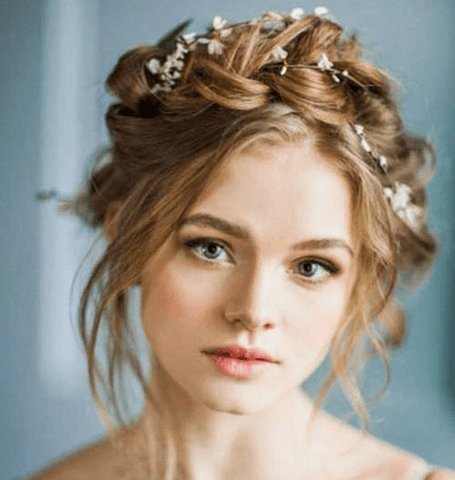 Image - https://www.pinterest.com/pin/16958936092262279/
Loosely Plaited Braid
This classic hairstyle has withstood many trends and for good reasons. The stunning simplicity of this braid creates quite a precious vessel for adorable buds or baby breath. This hairdo is perfect for gorgeous high-neck wedding gowns.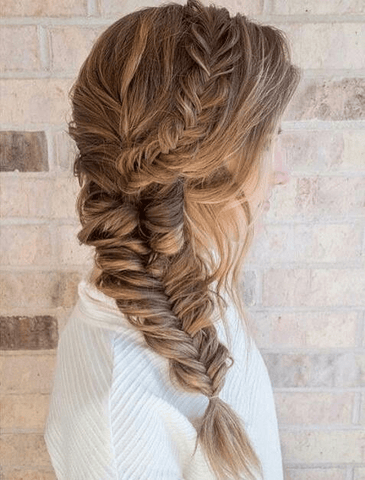 Image - https://www.pinterest.com/pin/40039884182429609/
Tousled Hair With Headpiece
Tousled locks cascading down onto the shoulders and paired it with an incredible headpiece make a regal look.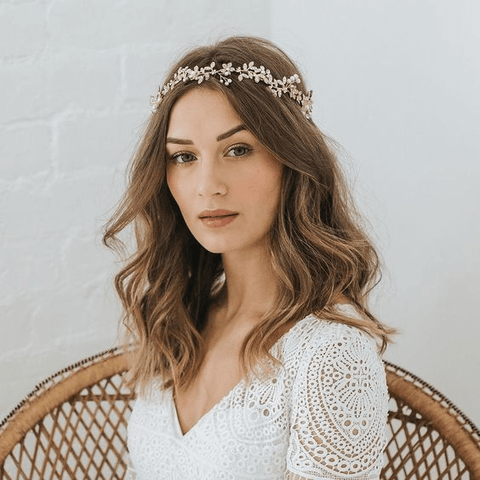 Image - https://www.pinterest.com/pin/32510428553462299/
Princess Of The Day
A beautiful and romantic bride can still be a princess bride. You can stick to your own gorgeous hair and accentuate the look with a crown.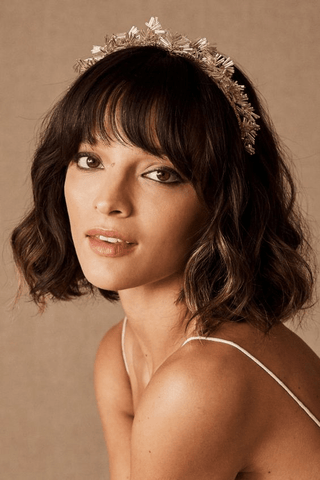 Image - https://www.pinterest.com/pin/406590672619395974/